Last Updated on Tuesday, 13 December 2011 13:07
Gig Review – Uberbyte at The Corporation, Sheffield.  5th November 2011
Gig Review – Phill Bruce
Photographer – Emma Wilson
The Corporation in Sheffield has always held great memories for me from the many years I have been going to this venue. Little did I know that this show would provide one of the greatest nights there I have ever had at this venue.  We had gone over to cover this very gig for Grave Concerns and from the very moment we got to The Corporation everything was perfect.  So, we did our usual of heading to The Corporation via a decent rock pub on the way which was on this occasion The Nelson.  We arrived to the music of Method Cell on stage as we were having a cigarette outside, to my surprise we were met by Michael and Arthur from Eisenfunk.  It was nice to meet them finally after various emails and an interview we had done some time ago for Grave Concerns (Check out our interview section for that one).  As we were chatting to the lads from Eisenfunk Richard from Uberbyte flew passed us giving us the usual friendly greeting as ever.  So, we headed in to the bar for the customary pint of coke.  By the time Method Cell had finished the air in the club was electric.
The time for Uberbyte arrived and they kicked off with "We Are The Dead" flowing straight into the song which started the crowd all shouting Stand up (for Uberbyte).  I must admit, I had never seen Uberbyte playing like this, they were just amazing and this was just after two songs.  With the advent of Spion Kop you could see Richards command of a doting audience come into full force.  It was hot and we were all sweating and you could see from early on that poor Charleen could feel the heat. Sheffield's finest was a song that managed to sum up Uberbyte to a T, playing as they did proving that they are not just Sheffield finest but one of the UK's finest as far as alternative music goes. 
The atmosphere was on fire as Uberbyte flew into "The Miracle".  Richard took complete command over the revellers who went to see them as they played "Jump Into Hell", we were all dancing and jumping which only made the job at hand more hard for our own Emma who was trying to get the photo's we all love to see on our reviews.  Then came one my favourite songs from Uberbyte "Industrial Bitch", Charleen's vocals added so much weight to the heavily powerful vocals of Richard.  You could feel the wave of movement in the crowd, we just could not stop ourselves from moving to this amazing track. 
Then came the epic "Gott Mit Oontz", this had remnants of early electronic German music like the great Dead Can Dance.  It was then Richard said it was his time to step back to let you hear the people behind him and Uberbyte kicked into "The Black Classroom", it was with this song that you truly realized just how talented Uberbyte truly are and it was apparent also of how close and tight Uberbyte are together.  I recently reviewed Uberbyte's new album NFY and I quoted that Hardcore Industrial was a DJ's dream, one song that could fill a dance floor and get the crowd's bodies moving and I was proved right when Hardcore Industrial sent the crowd into a frenzy of body movement.  The energy I had locked up inside me was being used as I just couldn't help myself from moving to 135335, as to where this energy came I just didn't know.  Uberbyte finished their finely polished set with "Money Shot" which gave a perfect end.
I must say that I have seen Uberbyte quite a few times and must admit this was their finest hour, I have never seen them so tight and together as I did at that night.  The fifth November, Bonfire Night and Uberbyte set the Corporation afire with their music.  Out of all the times I have seen Uberbyte, I must admit this one has to be the best.  We were tret to all our favourite Uberbyte tracks plus a couple of new tracks which had never been heard anywhere before.  One night I will cherish for the rest of my life.  What an amazing gig, great music coupled with the amazing atmosphere of The Corporation.  So, what would I score the gig out of 10?  Well, I would score them 135335 as 10 just does not sum up the sheer awesomeness of the night.
Even though the sound may not be the best this video helps you have an idea just how good Uberbyte were (This person must have been stood right next to me lol)
Watch the Uberbyte here: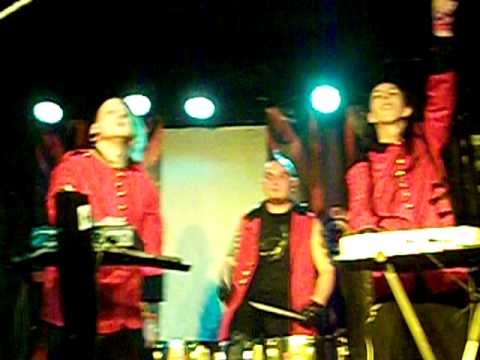 https://www.facebook.com/pages/UBERBYTE/19049739990
<![if gt IE 6]>
<![endif]>
---