Last Updated on Sunday, 16 November 2014 19:52
Artist: Citizen 16
Album Title: Temptation
Label: Juggernaut
Released: October 3rd, 2014

From: San Fransisco Bay Area
Genre: Electronic/Industrial/Dark Wave/Agro/Future Core
Biography:
"After his involvement with several other bands of varying genres, in early 2010, Wolf Neve felt that it was time to begin his own project; he wanted to create something that felt right, something with a purpose, an outlet in which his soul could truly speak. After hours upon hours of heartfelt experimentation, the Citizen 16 (C16) project was finally born. Together, they hope and strive for the betterment of society as a whole- be it flesh or machine, through song, and through action!"
Temptation
This is simply tantalising and vibrant in its delivery! It's addictive and forthright. The vocals are gnarly and clean – sort of metal core electronica if you like! Definitely a thrilling encounter and a great track to open.
 Take a listen: "Temptation"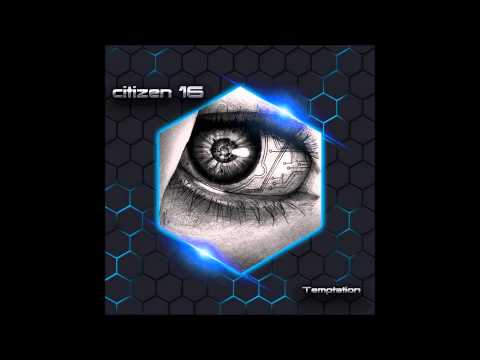 My Friend
Weaving a heartfelt rhythm and lush melodies it sweeps across the aural in what can only be described as a tidal wave! It holds its own tension and passion and is pure in delivery!
That Night
This is a track that reaches out and lures with intent and holds an all-encompassing soundscape. The monotone vocal is poetic but keeps the track levelled.
Lies within Beauty
Sharp, shrill and sensational! As its title suggests this flows like liquid gold whilst holding a tempestuous melody. It instantly captures a certain magic that is powerful and intense.
Can't stop time
Superb dance track this is on a mission! Its notes are deep and imposing. Very easy to relate to its pumping rhythms and gives out a vivacious glowing warmth, despite the harshness of the vocals and the choppy synth – Great track!
M80 Feat IIOIOIOII
Already love IIOIOIOII so this comes as no surprise that I am loving this track! Its beauty knows no bounds. Catchy and mesmeric – this is just vibrant and swathed in addictive qualities and more than whet's the appetite!
Leaving
Is a sweet tune that overlays on a sumptuous bed of deep electronic rhythms? The vocals are not as monotone as in previous tracks and there is an addition of a female voice which uplifts it to new heights. It is a very addictive composition.
"All the tracks hold something different from sweet melodies to more heavy stomping rhythms. It is quick to engage the mind in an all-out tempting and intense adventure!"
Angelificatum
This is deep and heavy with a swaggering rhythm that surges with superb grisly vocal. It is gripping and intense and plays out with an irresistible lure. Its qualities are increasingly raw and holds seductive endeavour.
Fashion Boy
Is not as cheesy as the title suggests, but possesses a beautiful beginning that twists into a rapacious rhythm that teases the senses into submission. A very impressive composition that reveals a strong gnarly vocal to choppy synth notes.
That Night (Retrogramme Remix)
Squally noises and addictive synth notes secure and engage the listener with focus. This is a very rich encounter with a rigid melody that taunts with more addictive qualities.
Summary:
A very unusual album that starts off with a clean monotone vocal and quickly stretches its capabilities for thinking outside the box to a gruesome gnarly vocal, with various samples.
All the tracks hold something different from sweet melodies to more heavy stomping rhythms. It is quick to engage the mind in an all-out tempting and intense adventure.
At times it simply attacks the audial canal with bite and then it soothes with a caressing vibrancy!
9½/10
Track List:
Temptation
My Friend
That Night
Lies within Beauty
Can't stop time
M80 Feat IIOIOIOII
Leaving
Angelificatum
Fashion Boy
That Night (Retrogramme Remix)
Members:
Wolf Neve: Vocals, Lyrics, Programming, Keys, Drums, Recording.
Miki Branescu (NeutrinoP): Music composer, all Instruments, Drums, Programming, Studio Recording and Mastering.
Brian O'Hara. (Live keys)
Special thanks to Shane Richard, Kyle Cameron and Dan Dulle
For helping "Angelificatum", "Deception" and "Bring down the Sun"
Former members:
Kitty Nyu (Keys) Live
"Leaving"
Unitt 77.
<![if gt IE 6]>
<![endif]>
---