Last Updated on Monday, 22 July 2013 15:50
Artist: Empire State Human
CD Title: Soul of the Machine
Genre: Synthpop
Released: July 29th, 2013
On 29th July 2013 Empire State Human release their long awaited album Soul of the Machine, Grave Concerns Ezine got a chance to hear their new album. So what do we think? Read on the following delights.
The first track on the album is "Love like Chrome" which greets you with that lovely 80's synth sound that Empire State Human fans love. It has a wonderful epic synthetic soundscape accompanied by Aidan's amazing vocal talent. Not only is the music of that calibre we are used to but lyrically "Love like Chrome" has that great feeling we are used to hearing.
Next up is "Beloved" which starts with darker harmonies and deep lyrical tones. The vocals are mainly subtle but yet when needed they are hard hitting. Both the music and vocals are dreamy and calming.
"Nostalgia" has a simple but yet very complex beat which flows with slight ebbs of synth filling in between, this is another track where Aidan's vocals are ethereal and very alluring to say the least. "Nostalgia" is full of lovely synth harmonies and expressions.
"We Never Said Goodbye" tells of a very different love story, it carries deep undertones that can really be felt, which is good when a song has the ability to play with your emotional strings. So far I must admit this is a very well put together album, each song follows the last with perfection.
On hearing "Spacelab One" you are taken into a futuristic world, Empire State Human has managed to fill their sound with all you would expect to let you envisage this future. The music is painting a picture in your mind. The synthesizers are telling you the story, peaking in notes and the background sound helps to give you the image of stars and galaxies.
"I Feel Alive" is penetrating and profound, devious and yet as the song gets into flow the low tones are lifted up higher and higher to a slight state of euphoria only to be brought back down crashing back to a Cimmerian shade.
"Light Chasers" reminds me musically of a great 80's sci-fi epic and it has some immensely clever lyrical lines like 'changing like a winter's day becoming more like yesterday'. Again the marriage of music and lyrics is perfect and has a certain affinity when the two are masterfully blended together on "Light Chasers".
"Welcome to the Future" is another track that carries that sci-fi theme and atmosphere. The subtle sounds that are accompanying the synths, provides a wonderful panorama perfectly setting the scene for "Welcome to the Future".
"Chameleons" is such a happy and upbeat song, it's one of those songs which will leave you with a little smile on your face as you are listening to it. What a joy to hear.
"Soul of the Machine" finishes with a great high crescendo with "Frames of the World", this really is the icing on the cake. There is similarity to every track on the album but yet there is a vast difference, the similarity can only be summed up as Empire State Human. The band pours their sound, their heart, and their life force into every track on this album.
It's sometimes hard to strike a balance with vocals and music to get them to complement each other but yet this is a talent that oozes from Empire State Human. Aidan's vocals are quite unique in many ways and it can be complex to find a musical balance to accompany such strong vocal lines that Aidan delivers, but you know what Empire State Human does this with ease.
Some of the tracks on Soul of the Machine are ones that only Empire State Human could pull off both musically, lyrically and emotionally. That sci-fi feel flows and beats all the way through every track. This album really was a joy to listen to and one I could only write about on my second or third time listening to and what a joy it was listening to it.
I must admit if you are a lover of electronica then this is an album for you, you can clearly tell the influences of Empire State Human is it is very present in their sound. But it has to be said their sound is their own and nothing less than joyously unique.
Take a listen to: "Love like Chrome"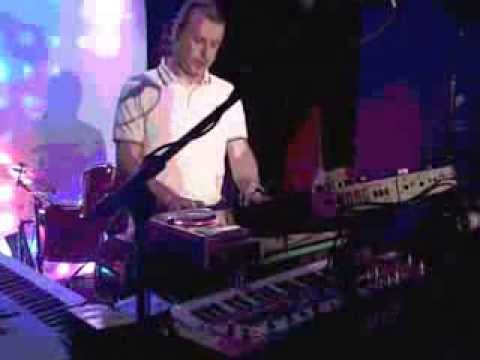 <![if gt IE 6]>
<![endif]>
---