Last Updated on Friday, 12 July 2013 13:54
Artist: Covenant
CD title: Last Dance
Label: Metropolis Records
Genre: Synthpop, EBM
Website:  http://www.covenant.se/
The 2 years since the release of Modern Ruin has gone by surprisingly fast. Finally looking up from my stack of pending music reviews, I found Covenant had a new EP out with a new full length due out later this fall. Last Dance is the Swedish band's first single from the upcoming Leaving Babylon LP due out this September, and what single it is.
While I was content to write this up as a review for the new track, I found that Last Dance was more than a taste of things to come This EP also contains songs written by each of the members of Covenant. Live members Andreas Catjar and Daniel Jonasson contribute tracks along with Eskil Simonson and Joakim Montelius. I was disappointed that Haujobb's Daniel Myer wasn't going to be part of this album, but it is clear that his influence on the band is still felt throughout this EP.
Last Dance retains the organic and massive sounding percussion from the last album, but returns back to the raw and jagged sound Covenant had on Europa. If Modern Ruin stripped Covenant down to their core elements, Last Dance is the band building new structures on the fresh musical landscape. This is the first time in awhile I've felt like I could mix some Covenant into a more aggressive EBM sets without using a remix. The original version of the title track shifts flawlessly between a hard and gritty emotional place and the spiritually uplifting "epic" space that Covenant has become well known for on releases like Northern Lights or Skyshaper. "We Go Down" has an easy to digest chip-tune sound. While chip-tunes normally annoy the hell out of me, the vocals help make this simple song enjoyable. "I Scan The Surface" immediately struck me as a closing track. That song the band plays before they walk off stage for first encore. Very somber and reminiscent of the slower tracks from Northern Lights but with perky little beats and distortion samples that jump around Eskil's mournful vocals. "Slowdance" closes out the EP in a very ominous fashion. Synths rise up and crash like violent waves on a bleak soundscape while Eskil speaks the lyrics quite calmly, as if resigned to some great fate. If "I Scan the Surface" is the closing song, "Slowdance" is the song that the band would open with. Flooding the stage with smoke and light as the crowd starts to stir with anticipation. The EP also contains to remixes of the title track. The Modulate remix of Last Dance isn't the best remix I've heard but it is pretty spot on if you want to mix this into a set of more rave-y EBM. It lacks the epic swells that the original has but makes up for it with high energy synths and beats. The Version remix focuses on the grittier elements of the original track. Perfect for DJ sets that center around Haujobb, Rotersand, Assemblage 23, and the like.
Overall, I'm pleased with the new Covenant EP. The fact that this was more of a collaborative effort showcasing all of the band's songwriting talent makes it a must listen alone. I'm also curious if the upcoming full-length will contain songs written by all of the members, or if Last Dance was just an experiment. If you're a fan of the older sounding Covenant (pre-United States of Mind) then definitely pick up this EP, and if you enjoyed Modern Ruin, you will want to hear up this next step in Covenant's musical evolution for sure.
Not saying this is top 10 material for the year, but I can't wait to play it in a live set soon.
Watch a live version of "Last Dance" here.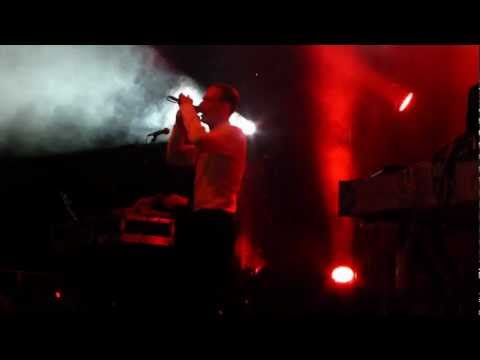 Jason "DJ Kantrip" Calhoun
Overall Rating: 4 of 5
<![if gt IE 6]>
<![endif]>
---