Last Updated on Saturday, 09 March 2013 23:02
Artist: Men Without Hats
CD Title:  Love In The Age Of War
Label: Cobraside Distribution Inc
Genre: Synthpop/new wave
When I think of the roller coaster ride of a history that Canadian band Men Without Hats has had, one of the most famous first lines of the Charles Dickens classic " A Tale of Two Cities" comes to mind "It was the best of times, it was the worst of times, it was the age of wisdom, it was the age of foolishness, it was the epoch of belief, it was the epoch of incredulity, it was the season of Light, it was the season of Darkness, it was the spring of hope, it was the winter of despair, we had everything before us, we had nothing before us, we were all going direct to Heaven, we were all going direct the other way--in short, the period was so far like the present period, that some of its noisiest authorities insisted on its being received, for good or for evil, in the superlative degree of comparison only."

Men Without Hats could have easily been called "The Flying Doroschuk Brothers" because of their strong family base and their circus like antics.  They got their rather unique name following the self-described principle of "style before comfort". They refused to wear hats during Montreal's cold winters, calling themselves "the men without hats." In order to give you a proper review of their latest album Love In The Age Of War , I must first provide you with a history. The Men Without Hats story began in 1976 when three brothers Ivan, Stefan & Colin Doroschuk met up with some friends in high school and played their first concert together under the name "Wave 21". From there, the three brothers were inspired to do something great that would change the face of music as we knew it forever. The burgeoning genre called "The 80's" was an ominous prediction of bigger and better things to come. The 80's would forge their trademark sound and would set the stage for their careers and unbeknownst to them, the tone of the rest of their lives. The Doroschuk brothers three set out to conquer the world with their rather odd approach to making music. The Men Without Hats line up history is a story all on his own, but two of the brothers Ivan & Stefan remained a pretty steady constant while the third brother Colin, remained like a revolving door, as he came in and out of the band periodically throughout their illustrious career.  In 1980, the two brothers Ivan & Stefan released the appropriately titled "Folk Of The 80's EP" which would feature a tiny taste of much grander things to come. In 1982, the Doroschuk brothers, this time with Colin in tow, released their full length debut album Rhythm Of Youth. This album would produce one of the most notable classics of the 80's "The Safety Dance" and one of my personal favorites "Living In China". Due to their incredible world wide success, all three brothers virtually ran into the studio to create their next masterpiece Folk Of The 80's (Part III) . Though sadly underrated, it still managed to squeeze out "Where Do The Boys Go?"  which was a top 40 hit in Canada. However, the album failed to match the international success of Rhythm of Youth.  After several singles and EP's, Men Without Hats was ready to release their third album " Pop Goes The World" which was produced by the legendary Zeus B. Held. The album's title track " Pop Goes The World" reached No. 20 on the Billboard Hot 100, No. 2 on the Canadian Singles Chart. To this day, "Pop Goes The World" lives in infamy as the highly recognized theme to several commercials, most notably popular laundry detergent Tide. In 1989 on the verge of a new decade, they released their fourth album The Adventures Of Women & Men Without Hate In The 21st Century. Though it featured a cover of the disco classic "S.O.S" by Sweden's hit factory ABBA, the album did not manage to get much attention and subsequently tanked hard.
Men Without Hats fearing extinction, realised that with a brand new era of sound and culture that their "happy go lucky" synthpop sound might not be well received, so they traded their synths for electric guitars. This would prove to be a bad move that would ultimately destroy their careers and send even the most die hard Men Without Hats fans running off into the night. Not surprisingly, their fifth studio album "Sideways" would be the final death blow to their career. Though the "hatless men" would continue to produce various side projects including Ivan's solo album, The Spell, in 1997, there seemed no hope for their return. As far as albums go,Men Without Hats remained dormant for twelve long years. Though they still played live shows and events,there was a separation between the two founding brothers Ivan & Stefan, who much like Gene Loves Jezebel fought over ownership of the name Men Without Hats, which eventually lead to both brothers performing under the now infamous name.  In 2003,  the two brothers Ivan & Stefan regrouped and Men Without Hats reappeared like a phoenix from the ashes with their sixth studio album No Hats Beyond This Point. Though they tried to return to their 80's roots, it was an epic failure. Men Without Hats were officially dead..
Wait, no...I stand corrected!!!!  The boys are back! You have to give these guys an A for effort and persistence. As they took beating after beating, heartbreak after heartbreak, they kept getting knocked back down on their respective asses but still they continued to get up, dust themselves off and jump back up on the horse. It is now 2012, nine whole years since their disaster of a comeback. The brothers triumphantly return with some very unexpected surprises. First one of the three original founding members of Men Without Hats and one of the most consistent, Stefan, has not returned, but "casual"  member and brother Colin is back!  Are you ready for the most interesting news yet? Producer Dave Ogilvie of Skinny Puppy/Marilyn Manson fame is leading the parade as he has taken on the risky task of producing their seventh studio album "Love In The Age Of War ". Like they say "7th time's a charm" ( well they don't say that, but in this case it's true!).
I was utterly blown away by this album. What an incredible transformation and resurrection of a long dead sound. I thought I'd never live to ever hear the magic that Men Without Hats once possessed with albums like " Rhythm of Youth" and "Pop Goes The World". Dave Ogilvie is a magician. He has not only resuscitated, hell, I'll just say it again, "resurrected" Men Without Hats, but he took them to high and unimaginable levels that you just have to hear to believe! Their trademark 80's sound is back, better, bolder and fresher than ever. Ivan's vocal is at peak performance and the production is simply top notch. Men Without Hats trademark DEVO-esque fast paced, bubbling arpeggiated synths, catchy melodies, bouncy, punchy bass lines and pure analogue computerized heaven, sets the stage for eleven of some of the best tracks ever produced since their mega classic "Safety Dance". If Love In The Age Of War were the follow up to "Rhythm of Youth" Men Without Hats would be even more legendary. I am literally crapping myself here, pun intended, because this album is just sheer brilliance. Men Without Hats outdid themselves this time and proved "you can't keep good men down". There isn't one track that I don't absolutely love. Once again, they introduce a new line up headed by Ivan & Colin, and keyboardist Lou. Sweet, femme backing vocals (though not provided by earlier Men Without Hats songstresses Lysanne Thibodeau &  Anne Dussault) adds a tasty and familiar treat throughout this insanely delicious album.
There is too many tracks with major hit potential like "Head Above Water" and Safety Dance-esque "Everybody Knows". Fans of Erasure and Yaz(oo) will delight in the ballad Close To The Sun. I LOVE LOVE LOVE this album. If you are a fan of the 80's, synthpop, or Men Without Hats, this album is a must have. I am running out after I finish this review to buy my very own copy of this EPIC CD!  I bet poor brother Stephen is kicking himself right now for not being part of this monumental comeback album.  "Love In The Age Of War " which should be called "We are Back To Kick Some Serious Ass" is officially my favorite album of 2013 (and knowing me, that takes A LOT to impress me this much)  Thank you Dave Ogilvie for bringing back my Men Without Hats to me!
Listen to just one of many incredible tracks on this epic album.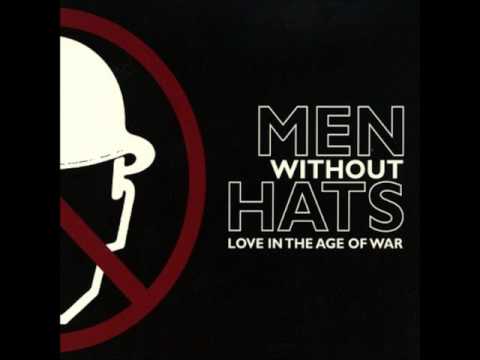 Buy Men Without Hats "love In The Age of War"
<![if gt IE 6]>
<![endif]>
---