Last Updated on Wednesday, 27 August 2008 05:10
Artist: Ashbury Heights,
Title: "Morningstar In A Black Car"
Label: Out Of Line Music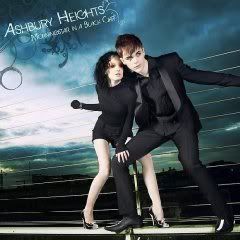 http://www.myspace.com/ashburyheightsmusic
http://www.myspace.com/outoflinelabel
1. Morningstar In a Black Car
2. Spiders
3. Die By Numbers
4. Smile
5. World Coming Down
6. Stormbringer (Aerial Mix)
7. Spiders (Remix by UnterART)
8. Die By Numbers (Remix by Agonoize)
9. Smile (Remix by Marcheaux)
10. "Spiders" (video)
Sweden's Ashbury Heights is a band that seemingly came out of nowhere in 2007 with their spectacular debut release, "Three Cheers For The Newlydeads". That album combined touches of 80's synthpop with a good dose of modern electro elements, better than average lyrics, and superb vocals by Anders Hagstrom and Yasmine Uhlin. Choosing not to just sit back and enjoy the success of that release, Anders and Yasmine headed back to the studio almost immediately and recorded their latest release, "Morningstar In A Black Car". Containing five new songs and four remixes, this EP should solidify AH's place as one of the better (and more original) acts in the electro/synthpop/goth scene. To be honest, it should solidify their place as one of the better alternative acts in any scene! I'm not going to go into the remixes on this release simply because I'm not a big fan of remixes, and the original versions are usually better anyway. The new tracks are fantastic, though, and pick up right where "Three Cheers..." left off. The title track is a slinky number with a slower, dark groove to it that ghouls would love to listen to while driving down dark streets. "Spiders" is a killer mid-tempo song that really shows of the vocal prowess of Anders and Yasmine. While I'm on this song, I have to make mention of the "Spiders" video; it's stunning! If you haven't seen this one online yet, you're missing out. Very cool. "Die By Numbers" is the most 'old school' sounding track on "Morningstar...". I could definitely hear this one on a mid-80s movie soundtrack. "Smile" is the mushy love song on this release, but it still stays in the mid-tempo range, and remains very danceable. "World Coming Down" is definitely my favorite track on this release. It has a faster pace, poignant lyrics that fit our turbulent times perfectly, and several drum change-ups that sound great when stereo volume levels are at their highest. When I first heard this song, I hit repeat on my player and listened to it several times in a row! Ashbury Heights has quickly become one of my favorite acts, and "Morningstar In A Black Car" only leaves me eagerly anticipating their next full-length release! Pick this one up without hesitation. You won't be sorry!
Click here for video: http://www.graveconcernsezine.com/index.php?option=com_content&task=view&id=2113&Itemid=236
Jeremy Davey
<![if gt IE 6]>
<![endif]>
---