Last Updated on Thursday, 19 June 2008 13:27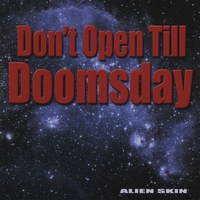 Artist: Alien Skin
Title: Don't Open Till Doomsday
Label: A Different Drum

Worlds of past and future submerged; brought to the present for our enjoyment, a gift, if you will, from singer, songwriter, and composer George Pappas, of Alien Skin; a true original too be cherished.

Beguiling vocals smooth and rich, emotionally uplifting and drenched with sensuality that envelop like a warm and empowering ocean wave during an eclipse; as well as, bringing in the listener inward with his tones of acing sadness, and colorfully darting joy. And then there is the music and the stories, which evoke it all within his personality, and the extraordinary places that only Alien Skin, could bring to us.

"Outer Limits", "Razor Arms", "Saviour", "It Doesn't Matter (I Want You)", "Gloomy Sunday", "Burning in my Hands", "Dust to Ashes 1945", and "Alien Skin" are songs of darkened moods, alluring visions, and bright spots to hold tightly onto.

The debut album, "Don't Open Till Doomsday", mystifies, flows with tenderness and compassion, awakening the soul to such phenomenal melodies and stories, and where lost hopes, loves, and uncertainties can regain their strengths and beliefs; their passions to rebuild upon, all the while facing life with a renewed outlook on oneself, the world being lived in...and of other worlds, and beings which are, more than just a glitter.
Music is healing; allowing the listener in ways unmatched, at times, with other methods, which may have been used unsuccessfully. Music is extremely personal and safe...letting one fall backwards, and be caught in the bliss of the surreal, and the purity of lucidness. Alien Skin's album, "Don't Open Till Doomsday", has effortlessly done that for me…and I hope you'll be able too, after taking your own journey with the music of Alien Skin.

And what will the artistic genius of Alien Skin come up with next…? (: Our world, and others are waiting. Thank you George for creating this music…you are an inspiration to so many…you are an inspiration to me.

For more information on Alien Skin check out http://www.myspace.com/alienskinmusik and
http://www.alienskinmusic.com/
<![if gt IE 6]>
<![endif]>
---