Last Updated on Saturday, 14 June 2014 11:47
Artist: God Destruction
Album Title: Novus Ordo Seclorum
Label: Juggernaut Services/Music Group
Genre: Aggrotech/Electro-Industrial
Date Released: May 30th, 2014
Label Press:
Just over three years after the release of Illuminatus, Mexico's God Destruction return with a release that's darker, more aggressive, and perhaps significantly better.
Continuing with their Satanic aesthetic and theme, Novus Ordo Seclorum is a furious indoctrination, consistent in blistering drum work, harsh Electro, and Imperor's inhuman vocal technique.
Flirting with Black Metal a little bit more than previously, "N.O.S" contains remixes by C-Lekktor, Alien Vampires, and Esquizofrenia Viral, and is far darker, sicker, and more satanic than before. The artwork speaks for itself.
Mastered by Mario Carrasco (SIN DNA), and available in limited edition Digipak, God Destruction return to finish the Devil's work at the end of May.
Background:
God Destruction has travelled a dark unconventional road. Their debut album was pushed hard in the scene even when the now defunct label Engraved Ritual couldn't keep up with the demand. Then God Destruction decided to call it quits months after Engraved Ritual folded. Fans beckoned for more and the band heeded the call. Putting together a new album called Novus Ordo Seclorum which is Latin for "New Order of the Ages". I know the debut, the band history and now it is time to hit play on the new album. Will this be the album to break them into the upper fold of the Aggrotech-Dark Electronic music scene? Or will it sink to the depths of hell to burnt ash forgotten.
Review:
A few days of listening to the album have cleared my thoughts on what is presented. Those that are diehard fans have no doubt pre-ordered the album. I doubt many people will sit listening to the tracks revealed on bandcamp for long enough to form a real opinion. The diehard fans won't be swayed from their conviction, whether the album is worthy or not. I will be lynched by them in this case as the truth is that the album has some major flaws. While it has moments of brilliance I found it lacking overall.
HIGHLIGHTS:
Disintegrator is an interesting mix. Containing a chorus that is sung surprisingly in almost clear vocals, I found this track to be one of my favourites. Showing a diversity that can be created by the band when they dig deep.
Revolution is the closest sounding track to black metal which is clearly were the band gets much inspiration from. The song is heavy and an attack on the senses. Covered in darkness it savages your soul in primal ecstasy. I enjoyed this track even if it's not a style I usually listen too.
Touched By Lvcifer brings together the best in their sound. Unifying their use of lots of sharp synths, swells of atmosphere, vocal exchanges and creating depths that can be lost in a wall of sound. God Destruction shine when they use their talents by pulling back from creating a wall of sound. Instead creating a song that is enjoyable even in its harshest moments.
To Sum Up:
God Destruction has put out an album that leaves me feeling let down. Repetitive moments across tracks muddy the effort. There are moments that show so much promise but the overall quality is poorly orchestrated.
Notably the album sound levels are pushed through the roof. I had to check if this had any info about mixing and mastering as was in doubt. They have mixed and mastered it though. So either the mix was high before the mastering or the mastering itself was done high. The label should have picked up on this when they heard the final edit and done something about it before deeming it suitable for release. The sound quality detracts even from the moments of brilliance. DJs will cringe if they put this on in a club. I don't think adjusting bass and treble levels would help much. For the average home user, expect the sound to come out distorted, muddy and compressed.
After each listen to the album I feel like it was rushed to put together. Songs created that are then stitched hap-hazardly together. It is being proclaimed as "The album that almost wasn't" so perhaps it was a case of putting together songs quickly to have some sort of release?
There is a cover of a MM song that is ok but we have heard before and been able to download free because it is a cover so copyright probably played a part in it being available for free. The track Destroyer carries nice beats and atmosphere but then there's no singing, a couple screeches, and major use of a dialogue sample from a film which is a pity. Sounds more like a DJ track than a track by a band supposed to rain hell fire down upon the non-believers.
As I said, the diehard fans will love this release while ignoring the poor quality of the end resulting sound. There are enough good moments for me to believe that God Destruction could still be counted among the top 20 in this style if given more time to polish off the rough edges. This release still sounds demo'ish even though it is on a label.What a shame.
I am a fan and have presented the truth, the good and the bad. You be the judge.
Rating: 5 ½ / 10
Track List:
1. New World Order
2. I'm Your God
3. Bellum
4. Disintegrator
5. Angel With The Scabbed Wings (Marilyn Manson Cover)
6. Prominent Darkness
7. Destroyer
8. Satan's Storm
9. Revolution
10. Touched By Lvcifer
11. Doomsday
12. Regresus Diaboli
13. Touched By Lvcifer (C-Lekktor Remix)
14. Regresus Diaboli (Esquizofrenia Viral Remix)
15. Regresus Diaboli (Satanized By Alien Vampires Remix)
Members: Imperor/Charles Black/Muteitor
Take a listen:  Album Teaser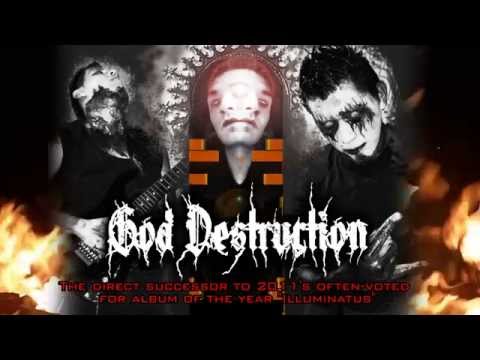 <![if gt IE 6]>
<![endif]>
---