Last Updated on Saturday, 10 May 2014 11:52
Artist: My Life With The Thrill Kill Kult
Album Title: Spooky Tricks
Label: Sleazebox Records
Genre: Industrial, Funk, Sexy Magic Time Music
Date Released: 5/6/14
Have you ever put on a record and from the opening note to the final cymbal splash you knew it fit just like a fresh pair of latex underpants? That is the only way I can even begin to put the beauty of the new TKK album into perspective. As styles have come and gone, dance music has surged in popularity, waned and resurged again since the inception of this art inspired music powerhouse, TKK have stuck to their guns. Creating music that is both, sexy, funky, evil and dirty like the floor of a peep show. As their thirteenth studio album spins over and over and over again on my computer I'm reminded why I fell in love with them to begin with. I was told Groovie this in a message, "TKK are like the best part of a Russ Meyer movie minus all the extra garbage to get to the great tits". That message still stands today with Spooky Tricks. If you fell in love with Groovie and Buzz during the Wax Trax days you will fall in love all over again. Taking cues from their more funky stuff from Confessions of a Knife, mixing it with the production quality of Hit and Run Holiday and throwing in a fair slice of the thick ass bass grooves of 13 Above the Night this 2014 TKK sounds fresher and more alive than they have in a decade.
I'm once again blown away by the pure amount of genius on this record. Ultimately the most danceable record I've heard this year. I can't wait to start spinning this as soon as possible and watch the dance floor explode in sexy grinding baby making sexy time dance moves. My Life With The Thrill Kill Kult are back and they are back to show all these youngsters exactly how it's done to get your ass wiggling and your junk swinging, if there are 100 babies conceived to this record that won't be enough! For everyone who wants to have their industrial the way it used to be, but modern and in charge of their own future destiny than this is the record for you. Easily already in my top 20 albums of 2014 and a contender for the top spot!
Track Listing:
Room on the Moon
Spooky Tricks
Hell Kat Klub
Neon Diva
The Way We Live Now
Monti Karlo
Bella Piranha
Dope Freek
Diamonde Doll
Sex Witch
The Strange Ones
Room On The Mood (DJ Toxic Rainbow's Moon Shroom Mix)
Take a listen: "Spooky Tricks"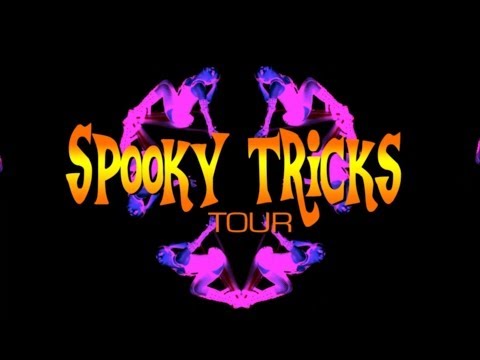 Buy Spooky Tricks
<![if gt IE 6]>
<![endif]>
---