Last Updated on Thursday, 01 May 2014 19:56
Artist: Obszön Geschöpf
Album Title: Highway of Horrors
Label: Cemetery Records
Released: February 25th, 2014

From: France
Genre: Gore EBM Electro / Industrial Metal / Hip Hop Industrial / Thrash Death Industrial
Discography:
DAY OF SUFFERING - Démo 1999/2000
YELL OF FRIGHT - Album 2003
SON OF EVIL - Album 2004
TOMB OF THE DEAD - Album 2005
ERECTION BODY MUTILATED - Double Album 2009
ERECTION BODY MUTILATED - Album RUSSIAN Version 2009
SYMPHONY OF DECAY - Album 2010
HIGHWAY OF HORRORS - Album 2013 (Dec 5th, 2013)

Mastered by James Murphy (Obituary/Death/Testament)
In Depth Biography:
The solo project Obszön Geschöpf was created by Remzi Kelleci in 1996/1997 in Boulogne Sur Mer, France
Remzi recorded his first demo in 1999/2000 entitled "Day of Suffering" This demo was primarily intended for labels. After much encouragement of various labels, but no actual proposal, he continued to work on new tracks focusing primarily on electro and putting aside guitars from metal beginnings.
2002 OG participated in the "springboard" D side of the magazine contest and was selected from over 300 participants, which earned him to be on the magazine sampler track "Godless Society"
After that OG received several contract proposals and finally signed to the young French label "Cold Room" for the release of his first real album "Yell of Fright" with international distribution.
In 2004 the second album "Son of Evil" was released on the American label BLC Productions. This album was very successful and OG became well known in the scene "Dark -Electro-Indus" He participated in several compilations and remixed several international groups like Alien Product, Synaptic Defect, and HIV.
2005 OG released his 3rd album "Tomb of the Dead" This album was more violent and dancy than the first two albums. OG then took the decision to release the album himself under the name of Mortuary Records. This album received a lot good feedback from radio, magazines, and webzines ... and as a result OG become increasingly well-known especially with the explosion of Myspace.
Between 2006 and 2008 OG participated in several compilations and made ​​several remixes for international industrial groups like Dope Stars Inc. Vigilante, Circus of Dead Squirrels and Technophobia.
At the same time OG concerts began with a special line-up, and played all over Europe (France, UK, Belgium, Netherlands, Switzerland, Denmark, Norway, and Slovenia) and worked on the fourth album "Erection Body Mutilated"
After a bad experience and waste of time with a label that was supposed to have released this album in 2007 but never did for any logical reason, OG cancelled the contract and re-signed to the label - BLC Productions (USA).
This album was released in January 2009 as a double CD with lots of remixes done by big names in the scene and Industrial Metal - Joachim Witt, Heimataerde, Cyber ​​Axis, Steril, FGFC 820, Vigilante, Inertia, and Xentrifuge.
OG began touring Europe in early 2009 to promote this album, after which earned them an excellent reputation throughout the world in Metal and the Industrial scene with concerts, and especially to Myspace – of which OG has more than 100,000 friends and over 500,000 visits at the last count!
The 5th album Symphony of Decay saw the light in September 2010. This album was released on the label Metal Twilight Vertrieb (Germany). This album was produced by the famous producer Andy Classen - Rotting Christ, Holy Moses, Asphyx, Disbelief, Tankard, Belphegor, and Dew Scented. There are 16 songs on this album including two remixes of two of the largest groups of American Industrial Metal, Skrew and Mushroomhead/Ventana.
OG were everywhere in Europe, promoting the album and made their first U.S. tour in March 2011 and played in the largest American cities – Philadelphia, New York, Los Angeles, San Francisco, Portland, Seattle, Sacramento, Phoenix, Las Vegas, and Long Beach.
By the End 2011 to September 2012, Remzi started to devote his time to writing of the 6th album Highway of Horrors"
There is always one thing you can rely on when listening to Obszön Geschöpf and that is the mesmerizing rhythms that invade the heart as well as Remzi's superb vocal dexterity.
It's harsh and exciting in every sense of the word, as with the opening track 'Human Beast' Remzi is that beast although human – I think not, he is a wild untamed animal and it shows in his writing.
"With sinister intent, the pulses of powerfully satisfying rhythms resonate weightily and nothing is left on the back burner to fester, it all comes right at you with a resounding level of malice"
Album Review: Highway of Horrors

Listening to these tracks allows a door into the mind of a fascinating man that can sculpt words and music that simply engages and enthrals to such an extent it is hard not to get caught up in the maniacal antics produced by such an out-pouring of vehemently savage lyrics and music.
The body will respond just as violently as it is sucked into the seething pustules of hate that emanates through its heaving core as on 'Two headlights appear on the road to the Carnival' the samples are well in keeping with their surroundings and just as angular as the music it incorporates.
Remzi is well known for his famous groans of "Urghhhhhhhh" of which he throws out there with regular occurrence, and really dominates the track 'Highway of Horror'
The spellbinding hard-core essence lives and breathes through Remzi's vocal extravaganza like on 'How I eat your Mother' - I am sure the man is possessed but even if this is not the case the blackness will rub off on the listener to such an extent that they will know only brutality of the fiercest kind when sampling these ingenious tracks.
Fuelled with potent enterprise, this album really gives your ears something to feast on, whilst basking in absolute pleasure as it's proved time and time again that OG are just as sadistic as the music they have created.
With sinister intent, the pulses of powerfully satisfying rhythms resonate weightily and nothing is left on the back burner to fester, it all comes right at you with a resounding level of malice.
'Slashers Night' is perhaps one of the most diverse tracks on the album offering a more hip hop sound, however it still holds that OG bewitching trait that smacks of heavy passion and an 'Urghhhhhh' thrown in for good measure.
More diversity to be had here as 'Bloody Black Skin' takes on definitive bass coupled with hip hop but not far away from its persistent demonic roots.
'Sleazy Man' is somewhat shrill and slips into a marching drum beat with robust driven vocals that are drenched in sinister ambience.
Deep and passionate the track 'Insane Impulse' sends a chill down the spine with expressive tones of brooding vocal and smouldering keyboards.
'Easy Ride Corpse' is an absorbing track raucously scathing and thick with emotive force despite there being a simple edge running through its core. Vocally entrancing with an appetite for drama.
'Dead and Buried' is heavy and deeply soaked in metal rhythms, veined by rigorous samples and haunting in every sense of the word, imposing a rampant urgency through-out.
'Curse with a Teenage Slut' goes back to metal roots with a strenuous melting rhythm that's ripe to move the head to and great for abusing the senses as the vocals are regimented and more robot like.
'Painkiller' holds more superb samples whilst a rampaging rhythm scalds as its intriguing presence whips past the senses.
To Sum up:
This is one beast of an album, holding a variety of voracious tracks that are never restrained and radiate enchanting seduction. Each track is deftly carved to produce a full on impact of ravishing encounters.
With the introduction of hip hop adding to its fit to bursting seams it is one muthafucker of diverse and brutally intense offerings known to man.
For me the best thing to have come out of France is Obszön Geschöpf as they really push boundaries with thought provoking intentions that in turn push you to your listening limits: 'urghhhhhhhhhhhhhhhhhhhhhhhhhh'
Take a listen: Highway of Horrors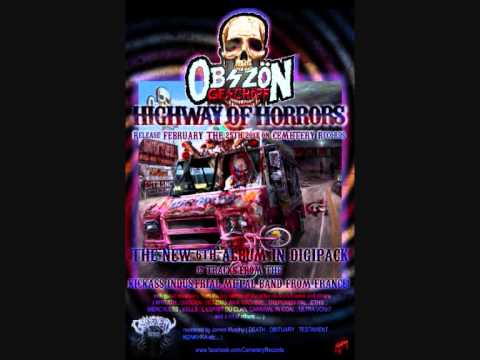 10/10
Buy Highway of Horrors
Track List:
Human Beast
Two headlights appear on the road to the Carnival
Highway of Horror
How I eat your Mother
Slasher's Night
Bloody Black Skin
Sleazy Man
Insane Impulse
Easy Ride Corpse
Dead and Buried
Curse with a Teenage Slut
Painkiller
Members:
Remzi Kelleci - Creator of Obszön Geschöpf - Vocals, Author and Composer
Matthieu Merklen - Guitar & Bass
Kim Larcher - Live Guitar
Chewbby le Viking - Live DJ /Machines
<![if gt IE 6]>
<![endif]>
---