Last Updated on Monday, 10 February 2014 20:29
Artist: ∆AIMON
Title: Self titled
Label: Artoffact records
Release Date: Available now!
Genre: Industrial/Witch House
After a period of being highly involved in remix work within the dark electronic community, and releasing a number of singles, California based dark electro husband and wife duo (Nancy and Brant Showers) ∆AIMON bring you their self titled debut album.
Opener "Vargtimmen" is a slow-burner, invoking images of winter wastelands with softly wailing vocals and irregular tribal drumbeats.
"Seraphim" brings in Brant's unearthly male vocals, initially providing a monotone foil to Nancy's pure despairing refrain. Both vocals and music throughout this track intertwine the twisted and the angelic, pure strings and heartfelt piano melodies counterpointed by jarring screeches and more slowly thudding drums.
The bass, beat and piano are stripped back through the next track "Dissolvte" and again a darkly brooding sense of Nordic desolation underpins the track.
"Low" becomes a little harsher, whilst retaining the sombre and down-tempo mood. So far this is a highly atmospheric work, sounds blending, layers being added and stripped away in turn. "Balance" remains sombre, bringing in demonic, occult references, with a brief foray into Skinny Puppy style dark electronic experimentation. This doom laden creation is easy to connect to, despite its enduring moodiness, which continues into "Anima". It is worth mentioning at this point that, although this is an industrial/symphonic work, the moody, heartbreaking songs which are normally the exception on industrial albums, are, here, not merely the norm but the rule! There are no fist pumping, boot stomping tracks here, it is all apocalyptic introspective gloom.
The gloominess is lifted by Nancy's bright vocals in "Amen" and through "Bruising EXU" and
"REI" we get introduced to deep chanted incantations and samples of distant slamming citadel gates. The album ends with ghostly, electromechanical wails, perfect for staring out over a city on a rainy day.
I really enjoyed this album, despite my normal preference for faster, louder works. It's sombre, bleak yet deeply atmospheric sound is perfectly hypnotic if you are feeling in a similar mood and it will provide an excellent counterpoint to all the furious harsh noise in rest of my collection!
Take a listen: "Amen"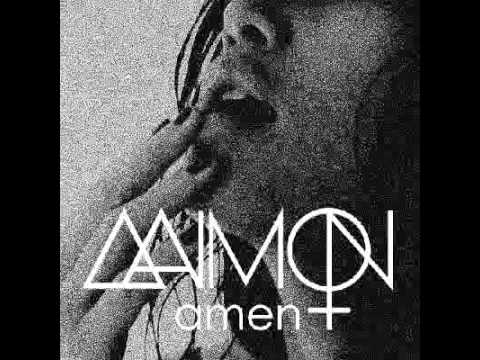 <![if gt IE 6]>
<![endif]>
---