Last Updated on Sunday, 08 September 2013 20:20
Artist: Ghostfeeder
Album Title: Hard Times for Dreamers EP
Label: Unsigned
Genre: Industrial, Rock
As someone who grew up loving, then slowly (when everyone started to sound identical) becoming disillusioned with a certain brand of all American, nu-metal/pop-punk vocal, I approached Rochester (NY) based future-rockers Ghostfeeder with a certain amount of trepidation.
On first listen, frontman Derek Walborn's vocals do seem to be of an ilk somewhere between Papa Roach in '98 and My Chemical Romance in '05. A listen to the lyrics of Sick of Me does a lot to smash these pre-conceptions, as is an incredibly self-referential and depreciating track in which the band not just walk, but positively dance, along the tightrope of credibility.
This mercilessly withering auto-takedown combined with a certain tongue in cheek arrogance seems almost as if they are daring you to dislike them, but failing because it is fun, hooky track, as threatened, you will end up tapping your feet, if not quite stamping them. Sick of Me, quite cleverly, also ends just just before you do!
Hard Times For Dreamers starts off with down-tempo 8 bit bleepy idiosyncrasies which leads to a well rounded, full sounding track which further explores Walborn's vocal range.
Throughout the album this band seem to simultaneously display both a great deal of fun and enjoyment in their work, yet also a healthy degree of cynicism both towards themselves and the world around. This dualism is only occasionally absent when they go for a more soulful vibe as with I'm Right Here, which is a very sincere but perhaps a little clichéd, with almost almost boy-band-ish harmonising. It is moving and tender but a little obvious and reminiscent of someone from the past like say Savage Garden.
Scan and download for a price of a tweet: "Just Another Animal"

Although the band cite Nine Inch Nails as an influence, apart from the occasional moddy bassline, jagged percussion or similarities in accent, if not style, of vocals, (most noticeable in Just Like That), I can't really say that they "sound like" the industrial behemoths and, while I am yet to hear the new NIN album, I can't really imagine Trent Reznor singing "I'm in love when you givin' it up to me – Just. Like. That!".
B-side You Left a Mark ramps up the guitars, the 8-bit craziness and the vocals, in a way which could so easily have been clashing cacophonous noise but instead meshes neatly into an energetic, quirky offering.
I'm on Fire is an beautiful cover of the Bruce Springsteen original - here we see how Derek Walborn's voice improves further when pushed outside of it's box. It is epic and soulful, showing he can can sing as well as scream, an instantly likable, heartfelt reworking which more than does the original justice. Close your eyes and smile and it will all be ok!
The sound throughout is cheeky, chirpy, upbeat and danceable (in a toe-tapping rather than foot-stomping way!) and, while they are perhaps a little too close to being a "mainstream" "band" for those of darker tastes (even with the ironic self references), they would certainly add variety to any collection, if only for those summer days for which certain doom-laden artistes just don't feel right!
Ghostfeeder dismiss preconceptions about alt-rock vocals having to be either some sort of Skinny Puppy-esque golem hiss or basso operatic growl a la Rammstein, and are musically very forward thinking. A natural progression from the meeting of screamo and new wave - as if Hadouken! and Linkin Park were involved in a head on car crash which should have killed them both, but from which they somehow both emerge not only unscathed but stronger.
All in all this offering is a tasty slab of knowing, forward thinking "rock and code", in which bassy, growly guitars spar with Mario-inspired madness over 99-06 american nu-rock vocals. As said, I am not sure it is for the electro/EBM/goth/Glitch crowd (to which I belong!), but it is very entertaining once you calibrate yourself to the sound. The fact that I thoroughly enjoyed this album even though their basic style is counter to my normal tastes speaks volumes about their potential and I can imagine almost limitless appeal and potential for those who like 'this sort of thing'!
Take a Listen: "Get Sick of Me"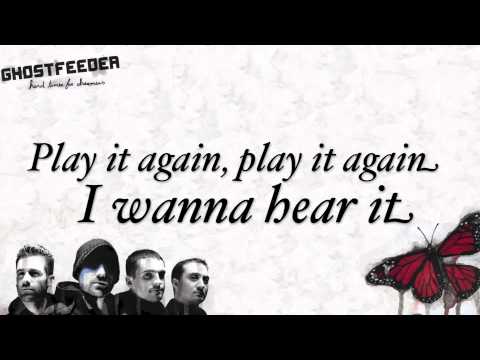 <![if gt IE 6]>
<![endif]>
---