Last Updated on Saturday, 03 November 2012 12:57
Artist: The Loyal Opposition
CD Title: Under The State
Label: Self-Released
Genre: Industrial


As a new reviewer, I found myself unsure how to approach The Loyal Opposition's full-length effort Under The State. What is it? What's it trying to do? Is this normal?
To begin with, the production is excellent. The sound is airy and punchy, with lots of weight where it needs to go, and sounds good even on inexpensive headphones. The guitars sound energetic and lively, and provide real backbone to the songs they're aggressively used in.
Faith No More, though well known mostly for the single "Epic" from The Real Thing, made a musical career out of assembling a series of highly unrelated songs into a somehow cohesive macabre theater. While some of their efforts were more spotty than others (Album of the Year being a far weaker compilation than Angel Dust, for instance), there remained a tenuous unity between the tracks that reminded you that yes, you were listening to a Faith No More album and this was what Mike Patton was up to. Perhaps it's my inherent respect for a band I'm familiar with and have invested years of musical patronage into; investment that doesn't extend to The Loyal Opposition's Under The State. Or perhaps it's Patton's uncommon musical capabilities that justify his experimentation. Either way.
At first impression, Under The State seems to be a pretty straightforward affair - industrial rock with a few danceable tracks. The opening track, "Failsafe", is a capable, hard-driving track that would fit right into any decent goth club's music rotation without so much as a complaint beyond 'I thought you were going to get to my And One request'. The disc's best moments are split between that and "Switch", an aggressive crusher with solid melody and timing.
The questions start coming as early as track 2, however. What sentiments do The Loyal Opposition attempt to engender? "Businessman", a not-quite-serious take on the 1%, quickly flips the mood from serious industrial rhythms to vaguely rebellious, unmelodic snark; "Run Wild" is nearly evocative of 80's hair metal. And after getting acclimated to this sort of schizoid direction, is it unrealistic of me to hear echoes of Red Rider's "Lunatic Fringe' in the mix when I listen to "Seconds"? Can I help but hear echoes of George Thoroughgood's "I Drink Alone" in "Why I Drink"? Linkin Park in "Khan!"? Perhaps I'm imagining things.
The album's lighter moments and wandering mood ultimately serve to bring it down even where its bright spots are good. I can't help but think that I'd enjoy each of its component parts a bit more in isolation. For instance, the bluntly forward lyric 'This is the hook that pulls you in' in "Khan!" was actually pretty correct; it's a catchy song with a pretty solid rap/rock meld of attitude and lyrical flows. But I can't reconcile it with the straightforward industrial assault of "Failsafe", or the rather puerile sentiments of "Businessman" or "Why I Drink".
The rest of the tracks on the disc merit fainter mention. The title track is a plodding, tensionless affair that meanders for four and a half minutes without musical direction. "The Lost Regime" is held down by off-key vocals and a weak melody, letting the clinical and capable underlying synth patterns molder in irrelevance. "Disconnect" strikes me as a somewhat blasé composition in the recorded medium that would sound excellent live.
The upside to their wandering creative direction is that there's probably something in here for everyone, whether you're into punk-inspired rants or serious business industrial; and on that measure the album will probably not be a complete waste of a purchase. Personally, I consider an album a raging success if there are three songs I genuinely like on it, and by those standards it's not a bad disc at all. I do, however, envision a scenario where few listeners are completely satisfied with Under The State, and can't quite figure out what to expect next from The Loyal Opposition.
Check them out and find out if I'm wrong.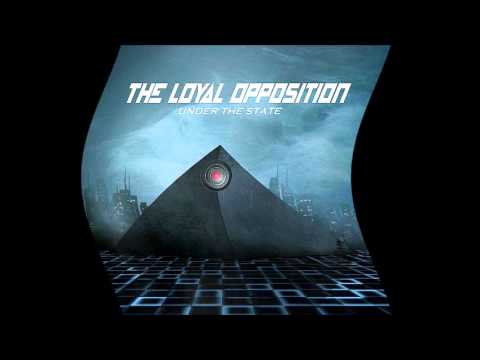 Click here to buy The Loyal Opposition's 2012 album - Under The State  (MP3)
<![if gt IE 6]>
<![endif]>
---