Last Updated on Tuesday, 11 September 2012 18:18
Artist: Killing Joke
CD title: MMXII
Label: Spinefarm
Genre: Punk, Rock, Industrial, Metal
Website: http://www.killingjoke.com/
Reviewer: DJ Kantrip
Date: 09/10/2012
 
With our culture's cynical yet fearful obsession with the Mayan Calendar, it's no shock that there would be lots of media (Music/TV/Literature) focusing on a possible Apocalypse or big shifts in the world this year. Some of it supporting and some of it laughing at such an idea, but either way it would be an over-played card in the realm of pop-culture. So when Killing Joke's MMXII came out this past April, I was filled with a small amount of disappointment that this iconic band would play the Apocalypse card as a theme for their latest release. Well after a few months of repeatedly listening to this album, I'm ashamed at my own bitter critical worldview.
Yes MMXII does focus on the end of the world and with song titles like "Fema Camp", "Pole Shift", and "Colony Collapse", its no big shock that some of these songs are taking direct shots at the political and economic factors that could lead to a collapse of civilization. But as I've had many English professors say, there is no such thing as an original story, just an original way of telling the same story over again. And Killing Joke does this quite well on MMXII.
Starting off the album with the 9 minute long "Pole Shift", The End begins with a soft electronica vibe that creeps up into a more epic post punk sound. Jaz Coleman's voice follows along with this slow volcanic build up. Somber and contemplative and as the mood grows darker his voice become a feral growl hurling anger out at the world. It is at this point, MMXII brings the listener into Killing Joke's take on the End of Days. Every song on the album carries or builds upon the initial feelings of rage, and anxiety that "Pole Shift" rains down.
One thing I really like about this album is the variety of musical styles at play here, all of which keep the thread of desperate survival. "Rapture" has a very industrial rock feel to it, while "Glitch" comes off as more heavy-metal. I've always admired how Killing Joke can switch their sound up so much and still be consistently good from album to album, and MMXII really wows with me how the band can shift from genre to genre without tearing me out of the "world" that they are building. Even the 90's alternative rock, "In Cythera" is completely at home here. Granted it feels like that one lone flower that has survived in a collapsed concrete jungle, but even so it fits in nicely.
From start to finish, MMXII, is a good album. Killing Joke delivers an hour long storm laying out their take on this year of change and chaos we find ourselves over half way through now. Every song leaves a memorable mark on the listener both musically and lyrically. The variety sounds makes this a good album for new fans to get an idea of how Killing Joke has evolved and experimented over the years, while delivering an album that long time fans would relate to and enjoy. This is one of the few times I can find no small item to gripe about either. Easily one of my top 20 albums of the year.
5 out of 5 Stars
DJ Kantrip
Order Here: http://www.amazon.com/Mmxii-Killing-Joke/dp/B007BLHY64
Listen to: "Primobile"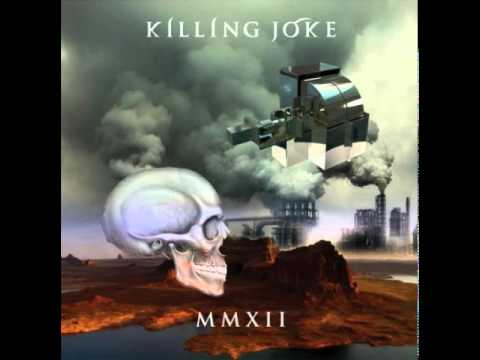 <![if gt IE 6]>
<![endif]>
---