Artist: Sounds of Mass Production
Album: The Treatment
Label: Music Ration Entertainment
Reviewer: Matt Willis
Date: 9/20/07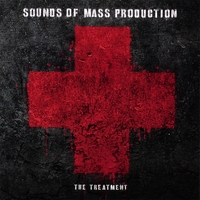 The man behind the electro-rock act "Sounds of Mass Production" Jason Bazinet impresses again with a 5th studio album "The Treatment". The album was produced with Wade Alin to create the signature high energy sound that SMP fans across the US has grown to expect with every new release. This was evident with the opening track entitled "F**K You". The name says it all and definitely sets the tone for the album.
The energy and industrial elements of the second Track "I waste You" is incredible. The track Metropolis offers up the familiar SMP rock hip-hop style. Other stand out tracks include punk sounding "Who's Who" and and "Corporate freak" which Jasons vocals are eerily reminiscent of Ministry's Al Jourgenson.
Cool bonus track includes a great remix of Metropolis (BounteMix) and the erry beginning of "Need" explodes into a flow and finishes the album with a bang. I have to say that I really enjoyed this album from beginning to end. Very Solid! If you are into electro-rock with hip-hop elements, then I highly recommend Sounds of Mass Production.
<![if gt IE 6]>
<![endif]>
---