Last Updated on Tuesday, 11 November 2014 21:22
Artist: Nocturnal Breed
Album: Napalm Nights
Label: Agonia Records
Genre: thrash metal
Release Date: March 11th 2014
With Napalm Nights, Norwegian thrash metal masters Nocturnal Breed are back after a 7-year hiatus to serve up a dish of their signature blackened thrash metal.
Since Fields of Rot in 2007, Nocturnal Breed had not released any album. Many fans of this band (or the many bands in which its members play or played, such as Dimmu Borgir and Satyricon) will be very glad to see this album coming out.
Some of the special feature of Napalm Nights are the guest appearance by Nocturno Culto (Darkthrone) on vocals and backings and the appearance of A.E. Rattlehead (Crest Of Darkness/ex-Nocturnal Breed) on solo guitar.
When looking at the sound on Napalm Nights, thrash metal giants like Kreator and Sodom come to mind. Mostly, we hear dirty old school thrash metal that is inspired by the work from the 80s, which just a little extra raw power to it. The anthems "Speedkrieg" and "Thrasiac" follow the cookbook recipe for making thrash metal.
To sum it up: Nocturnal Breed play a raw and powerful thrash metal, which will please all the 80s kids out there.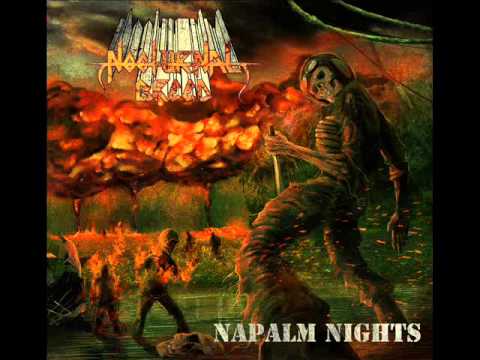 Buy Nocturnal Breed – Napalm Nights
<![if gt IE 6]>
<![endif]>
---