Last Updated on Tuesday, 11 November 2014 22:13
Artist: Trollfest
Album: Kaptein Kaos
Label: NoiseArt Records
Genre: folk metal
Release Date: March 28th 2014
It's been only a year since Trollfest released Brumlebassen, but our favorite troll-musicians are already back with a new album Kaptein Kaos.
Trollfest are celebrating their 10th year anniversary this year. What started off as a little joke by a few guys from Oslo University ended up in a full-fledged band with 6 full CDs, tours all over the world and the reputation of being one of the wackiest bands out there.
Typical for Trollfest is that all their lyrics are written in "Trollsprak" – a healthy mix of Norwegian, German and Trollish, which adds a bit of special spice to their happy folk metal. Like previous albums, "Kaptein Kaos" is set in a fantasy world of trolls. It tells the story of the Kaptein Kaos, who, according to the band "is an inventor who creates a time machine and goes on an expedition across time to see some sights, taste some stuff and has some fun in ways that are exclusively available to people with time machines".
The music sounds as giddy as before, but Trollfest themselves claim they have made some changes in their approach: "Blastbeats and screaming" says the band "have given way to juicy rock grooves and rich melody lines, and the world music influence, which has been our trademark both in our use of instruments as well as melodies, has expanded to include tango rhythms, Asian and Scandinavian folk music as well, of course, as our Eastern European influences for which we are known."
The thing with Trollfest though, is that after a while, you wonder if you they are not too gimmicky. They're fun to listen to, and I'd love to have a merry party at one of their live shows – but is this new music that we should praise? I don't think so. Yes, they're fun and boyish attitude should be praised, and they know how to write catchy music, but you need to be in the mood for this kind of music.
Anyway, if you can't get enough of the whole pagan metal and folk metal craze that has been going on for a few years, Kaptein Kaos is another album for your release. If you just prefer to find the few diamonds in the mass of albums that is being released in these genres, then Trollfest are to be passed by this time.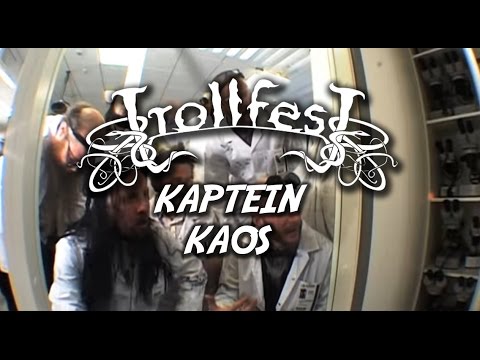 Buy Trollfest - Kaptein Kaos
<![if gt IE 6]>
<![endif]>
---