Last Updated on Sunday, 15 June 2014 19:35
Artist: Nervosa
Album: Victim of Yourself
Label: Napalm Records
Genre: thrash metal
Release Date: February 28th 2014
Victim of Yourself is the first full-length album of the Brazilian all-female thrash metal band Nervosa. Nicknamed the demolition crew, Nervosa are unstoppable on this album in which aggressive riffs pour out one after another.
One could say that Victim of Yourself is a perfect retro album that breathes the speed and aggression of old-school thrash. Nervosa have no time for any stop, but they just need to bash on and on, putting the pedal to the metal and never stopping for grasping air. Victim of Yourself is carried by the spitting vocals of bassist Fernanda Lira – she certainly does a good job at screaming her way through the album.
However, in 2014, I'm not sure if there is still a lot of place for almost brainless bashing and moshing, without borrowing from other genres and offering some cerebral reflections on the offered metal-violence. Here and there, some fresh sounds can be heard, such as the riff in the middle of the track "Nasty Injury", but generally, the ladies of Nervosa stay very close to the standard recipe of thrash metal. Oh, and due to some unfortunate coincidence, the lyrics on the last track really sound like "runny nose, runny nose, runny nose" to me – bad points for the poor articulation there.
Heavily promoted as the saviors of the thrash metal genre, Nervosa mostly seem to be the guardians of old-school thrash. It's fun for a while, but we've all heard it many times before.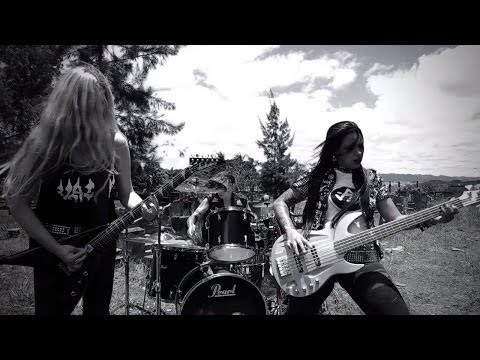 Buy Nervosa – Victim of Yourself
<![if gt IE 6]>
<![endif]>
---