Last Updated on Wednesday, 05 February 2014 19:10
Artist: Vista Chino
Album: Peace
Label: Napalm Records
Genre: stoner rock, desert rock
Release Date: August 30th 2013
Vista Chino is Kyuss, minus Josh Homme, who is leading Queens of the Stone Age. After starting out as Kyuss Lives!, a lawsuit from Homme made these remaining Kyuss members change their name to Vista Chino.
Even though there is a huge revival of stoner rock these days, and even though we are seeing forgotten obscure bands reunite all the time, Vista Chino are an entire different league. One's got to say it: the original still stands out. And even if these guys reunited to bring in some extra cash, they did a great job and produced a gem of an album. By and far, Vista Chino is categories above all other current revival attempts.
One of the strengths of Peace is that the vocals are very strong. We're talking about a gap of 20 years, but John Garcia's vocals are not showing signs of aging – his belts are powerful as ever. Certainly, age has matured John Garcia and Brant Björk, but for Peace that is a positive attributed.
Certainly Vista Chino sounds here and there like Queens of the Stone Age, and I don't think listeners should "pick" between either of the bands. Let's leave the lawsuits and personal issues to the gentlemen and just enjoy their music... And with Vista Chino we have a great addition/resurrection in the stoner/desert rock genre.
Peace is a very solid album, with high quality work throughout its entirety. Highlights are the accessible "Dargona Dragona", the soulful rocking "Planets 1&2", "Adara" with its great addition of murky female vocals, the progressive creature "Barcelonian" and then the final 13-minute-long epic "Acidize... The Gambling Moose" with its post-rock references here and there.
For all rock-lovers out there: Vista Chino made a great stoner album with Peace – and I'm betting they'll be starring many summer rock festivals in 2014.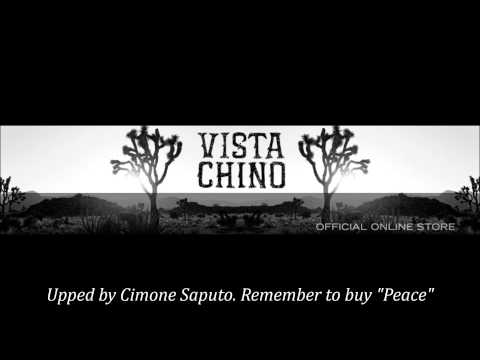 Buy Vista Chino - Peace
<![if gt IE 6]>
<![endif]>
---