Last Updated on Saturday, 25 January 2014 17:26
Artist: Machinary
EP Title: War 4- Track E.P
To be released: February 1st 2014
From: Sweden/Finland
Genre. Thrash Metal
Rating: 10/10

Recorded at TM Recordings, Hämeenlinna, Finland.
Year of production: 2013.
The EP is released on BandCamp for free with a pay what you want feature. It will be available on iTunes for about 10 USD and also on Spotify.
Biography:
Founded in 2013, Tommi and Johan found each other on SoundCloud, and a love story had begun. They both shared the love for 80's and 90's thrash and heavy metal and began writing songs together. In late 2013, Fredrik Wetter joined the roster, and they are now recording an LP coming 2014.
Prince of the Nile
Leaning toward the more traditional side of thrash but with a twist of pure savagery, this trio of thrash metallers have pulled no punches on this track. It is certainly bone crunching and attention grabbing with a flurry of tempos and time changes, delivered with forceful conviction and produces a frantic run on the senses.
The Devil
This one harvests a malignant intent from the very start and clearly showcases the band's imminent diversity. Further on it dominates with sheer memorable style, the energy, colossal and unarguably consistent.
The Serpent
Liking the sound of this as the jagged riffs multiply into a solid pacing and raucous frenzy of strong structures that leave lasting and memorable traces. A satisfying piece of raw brutal thrash that holds more than just long lasting appeal but delivers the bands true character. A great ambitious track and my ultimate favourite on the E.P. Insatiable listening! Just can't get enough!
War  
Kicking and screaming this track surges into view and destroys everything in its path. Distinctive as all the previous tracks have been so no need to complain on that score, heavy and unrestricting this band more than truly have well-oiled machinery, not to mention flexible fingers! And used everything superbly well on this four track E.P.
To Sum up:
The band are from Sweden and Finland so did you expect this E.P to be anything less than perfection?
Undisputedly fast, heavy and aggressive, there is no denying its brutality, solid riffing, and steely drumming with no lack of effort on the bands part. All the tracks have lasting appeal and can be enjoyed to the maximum – never thought I would ever say that about a thrash band and wouldn't twenty years ago, but now thrash holds something more special to me since the underground got its hands on it and made it sound so much better than their original influences, although I am now grateful for the original masters input into the equation.
Something truly rewarding can be gained from listening to these four tracks but the only complaint is that four tracks are just not enough – so an album's worth of thrash is bound to whet the appetite, but to combat this there is always the repeat button – winner! Just checked out the tracks 'Cannibal Holocaust' and 'Nuclear Annihilation' from the new album and in one word – Superb! Roll on this brand spanking new release it promises to be a killer!
The message that Machinery puts across can mean only one thing and that is 'War' this is one E.P of the memorable kind and no doubt will garner the band further support once their new album is released sometime this year. In the meantime bathe in Machinery's four track E.P and experience thrash at its utmost best!
Track List:
Prince of the Nile
The Devil
The Serpent
War       
Members:
Johan Vidner - Vocals/Lyrics
Fredrik Wetter - Guitar/Bass
Tommi Mäkelä - Guitar/Bass/Production
Links:
https://www.facebook.com/machineryband?ref=hl
Listen here: War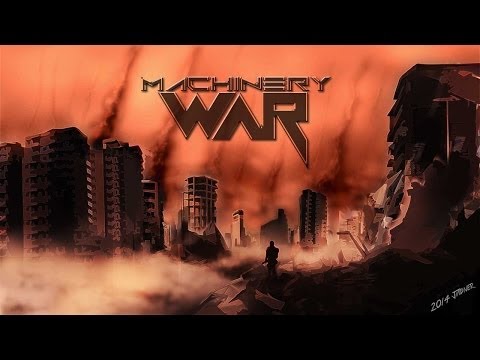 <![if gt IE 6]>
<![endif]>
---