Last Updated on Wednesday, 04 December 2013 18:46
Artist: Monster Magnet
Album: Last Patrol
Label: Napalm Records
Genre: stoner rock
Release Date: October 18th 2013
Last Patrol by Monster Magnet is the 10th full length album of this iconic New Jersey stoner rock band. Always evolving, Monster Magnet have fused garage rock, progressive rock, heavy metal, punk and psychedelia on their latest effort.
The lyrics on Last Patrol are as original as the approach Monster Magnet have to music. Spaced-out trips into horror movies and comic books are the sources of inspiration, that get all mashed together and return into a kaleidoscopic microcosm of imagination and wit. According to Dave Wyndorf (the only remaining original member of Monster Magnet, by the way) "the lyrics aren't fantasy really, rather a recounting of my musings on, observations of and general emotional reaction to my life and environment during a 1 week writing period in February of 2013."
Recorded almost exclusively with vintage guitars, amps and effects, Last Patrol has absolutely a retro feel to it. Are Monster Magnet trying to cash in on the current trend of retro psychedelic and doom bands? They might be, but I don't care – the result is far beyond the efforts of most retro bands I've heard over the past year.
One of the most surprising tracks on Last Patrol is a cover of Donovan's 1966 song "Three Kingfishers". This mash-up of hippy-happiness with the dark tripping of Monster Magnet's stoner rock was quite a surprise.

Last Patrol does what we expect from Monster Magnet: it gives us a little under an hour of great spacey rock, that feels both progressive and retro at the same time. Here and there, there are hints of post-rock that make this retro recording feel absolutely modern.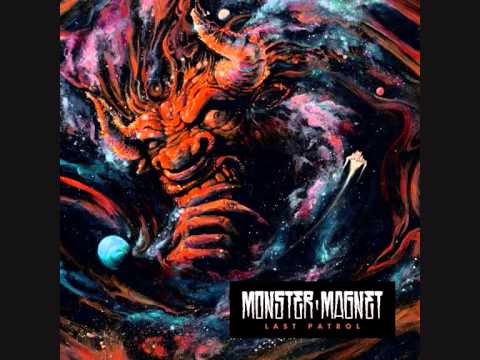 Buy Monster Magnet – Last Patrol
<![if gt IE 6]>
<![endif]>
---