Last Updated on Wednesday, 04 December 2013 18:43
Artist: The Answer
Album: New Horizon
Label: Napalm Records
Genre: hard rock
Release Date: September 27th 2013
New Horizon is the 4th album of The Answer, a hard rock and blues rock band from Norther Ireland. Over the past years, they have toured as the support of bands such as AC/DC and Aerosmith. If that doesn't make them rock 'n roll, then I don't know.
The general feeling of New Horizon is somewhere in between a revival of classic 70s rock bands (their music just screams Led Zeppelin here and there), and the rock bands of the 90s. In these days where most rock bnds are doing funky stuff with electronics or folky tunes, The Answer show us a no bullshit-approach to rock. Just give it your all, groove like hell and you got fuming rock 'n roll music. Here and there they remind me of Guns 'n Roses as well, albeit a little less creative and more straightforward.
The music on New Horizon is very accessible, at times poppy, rock music. The Answer are ready to receive a lot of airplay with this album, and they make that clear in different ways. First and foremost, their tracks are catchy and light. Also, all tracks are under 4 minutes in length, making them ready for getting streamed in the ether.
While The Answer are clearly tapping into the legacy of past great rock bands, they anage to sound fresh and kicking. I can imagine that New Horizon is both a great album for playing while driving, and that The Answer would be an awesome band for a summer festival, where you hang out in the sun and have some beers.
The most remarkable tracks of New Horizon are the steaming "Leave with Nothin", the catchy and pumping "Somebody Else" with its stomping bassline and "Call yourself a friend", which is a classic power balled, with prog elements that remind me of Dream Theater.
One point of criticism is that the final 3 tracks of New Horizon all sound a bit dull and similar to me – as if they had run out of inspiration to finish the album.
The artwork of New Horizon is worth a mention as well: it's designed by the late Storm Thorgerson, responsible for many of those iconic Pink Floyd album covers (and, not to forget, Muse and Led Zeppelin as well).
To recap: let's use the no-bullshit-approach of The Answer. If you like classic hard rock, check out New Horizon. Plain and simple.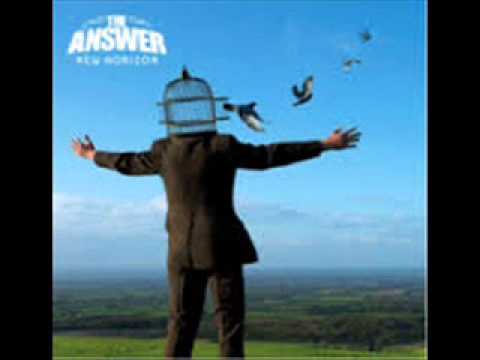 Buy The Answer – New Horizon 
<![if gt IE 6]>
<![endif]>
---