Last Updated on Wednesday, 04 December 2013 19:14
Artist: Lord Fist
Album: Wordless Wisdom of Lord Fist
Label: Ektro Records
Genre: heavy metal
Release Date: November 15th 2013
Lord Fist are a new band sounding old, or something like that. The goal of the Finnish band Lord Fist is to revoke the great days of the New Wave of Heavy Metal. Their debut EP Wordless Wisdom of Lord Fist takes us right back into the late 70s and early 80s.
Everything in the sound of Lord Fist refers to those early days of metal, where the rock 'n' roll outlaw attitude was a must to get beer and the attention of a possible quick romance. As Ektro Records puts it, Lord Fist are "charging ahead with chugging, headbanging riffs, narrative and expressive solos, and old-soul vocal mysticism."
Lord Fist was formed in the autumn of 2011, and since then, they have released a 4-track demo in 2012 Spark For the Night, as well as now this 4-track EP. Just as Lord Fist tries to invoke the heavy metal from the 80s, they also sound as if they were recorded at that time. Their production sounds overall very rustic, as if they were not using any digital tools. The production feels overall poor on the drums, as if they are tin cans rather than real drums.
If we say 80s metal, you probably think of Iron Maiden and Judas Priest. Lord Fist hover a bit at the softer side of the genre: with mellow vocals, and a slower tempo here and there. I said "mellow vocals", but here and there they just feel not powerful enough for the type of music they are playing. The best part of Wordless Wisdom of Lord Fist is the guitar work: really cool riffs that nod in the direction of Iron Maiden.
Overall, I'm not sure if Lord Fist feels like odd, out-of-place nostalgia or like paying tribute to the golden oldies. They try so hard by all means to sound as if they come from the early 80s that it feels like a gimmick at times. Probably, Wordless Wisdom of Lord Fistis something you like or don't like, as it goes straight to the guts.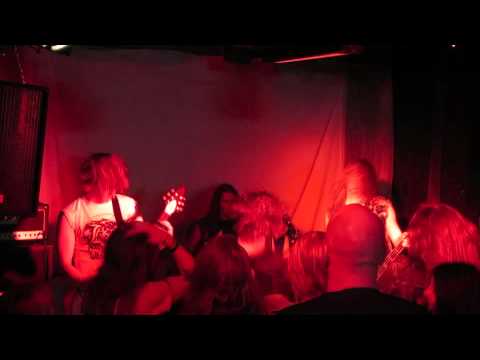 <![if gt IE 6]>
<![endif]>
---