Last Updated on Monday, 30 September 2013 20:13
Artist: Venomous Maximus
Album: Beg Upon The Light 
Label: Napalm Records
Genre: Dark Occult Metal
Release date: July 2nd 2013
Venomous Maximus, hailing from Texas, have released their debut album Beg Upon The Light. These Texans combine stoner and doom metal into something they call dark occult metal. In fact, they sound like a combination of old doom, a hint of stoner and a lot of traditional American metal. The occult part seems to lie mostly within the lyrics.
The cornerstone of Beg Upon The Light is the combination of driving drums, heavy guitar riffs and shouted/sung vocals by frontman Gregg Higgins, nicknamed "the grand marshal who leads through occult hymns".
The combination of the stoner attitude and the old school doom heaviness results in a pitch-black album with a distinct vintage flavor.
After the intro "Funeral Queen", "Path of Doom" introduces us to the sound of Venomous Maximus. The track stands out because of its great solo work. Overall, it sounds very much like American metal, with a hint of Bay Area thrash.
"Give Up The Witch" combines grooving, sludgy guitar work with a catchy refrain, into a track that sounds much like old school doom metal in the vein of Black Sabbath. Then, the album finds a resting point in "Father Time", an acoustic intermezzo with spoken/sung vocals and a deeply atmospheric direction.
Hints of prog metal, combined with doom and a heavy and menacing attitude surface in "Dream Again". "Moonchild" brings sexy female backing vocals that whisper through the heaviness of the guitars.
The ninth track "Mother Milk" shows a different face of Venomous Maximus: violin and acoustic guitars are combined with spoken word and deep vocals as we know them from Type O Negative into a much slower track.
To sum it up: Venomous Maximus bring a very American metal, blended from stoner and old school doom metal, resulting in vintage-sounding metal. If you are interested in a fresh take on classic doom metal like Candlemass and Black Sabbath, check out Beg Upon The Light.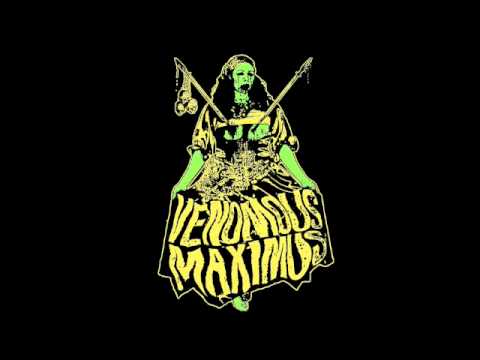 Buy Venonous Maximus – Beg Upon The Light 
<![if gt IE 6]>
<![endif]>
---