Last Updated on Monday, 26 August 2013 17:43
Artist: Sombres Forêts
Album: La Mort du Soleil
Label: Sepulchral Productions
Genre: atmospheric black metal
Sombres Forêts (sombre forests) is releasing its third album La Mort du Soleil (the death of the sun), by the solo artist Annatar.
The bio of Sombres Forêts describes his music as "rich in atmosphere and textures, where dissonant and droning guitars go side-to-side with the acoustic parts and tortured vocals that have become the group's trademarks over the years." 
In this description, the "side-to-side" element is something I can't agree with. To my ears, the changing between atmospheric, calm passages and distorted, angry bouts, seem more like unrelated copy-pasting together, than a landscape that is telling a tale.
The combination of the very-well developed layers and patterns in the atmospheric and symphonic/melodic passages with the low-tech black metal screams and pounding, is at least confusing, and at most simply annoying.
Looking behind this disturbance of the seemingly irreconcilable parts on La Mort du Soleil, there are however silver linings we should not forget to point out. While I couldn't understand the lyrics, the titles of the tracks, such as "Étrangleur de Soleils" and "Effondrement" show that poetic lyrics that could belong to an autumnal doom band are used here.
The atmospheric passages are artfully layered, and show the talent of Annatar. At a few delicate times, the combination of black metal anguish and beautiful layering works very well, when supported by some tormented guitar cords as on "Étrangleur de Soleils".
Another track that seems to work better in terms of combining these contrasts is "Au Flambeau", where the piano lines keep going on in a way reminiscent of Summoning.
To conclude: Sombres Forêts brings black metal and atmospheric music, which, at most times, unfortunately, refuse to blend into a higher soundscape of peace and storms.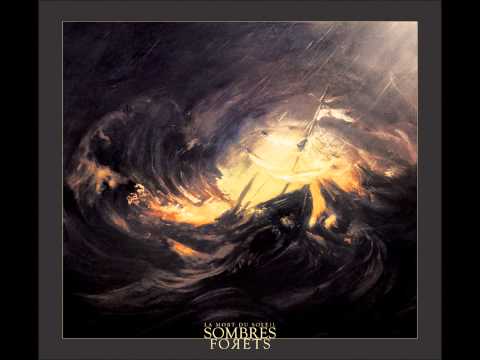 Buy Sombres Forêts – La Mort du Soleil
<![if gt IE 6]>
<![endif]>
---