Last Updated on Sunday, 17 March 2013 09:45
Artist: Combichrist
CD Title: No Redemption
Label: Out Of Line
Genre: Industrial, death rock, metal/metalcore

There seems to be a trend of bands that make whole albums dedicated to video games. Front Line Assembly just released AirMech which was the soundtrack to the video war game AirMech. Now the creators of DMC Devil May Cry, one of the most popular computer game series, has hired Combichrist to make music for their game.

Combichrist used to be one of my favorite EBM/industrial bands, but their latest release No Redemption is both good and bad. Good, because I will be saving money by not buying this CD or adding it to my collection. Bad, because a band I really liked, just bit the dust. I was so excited to hear the new Combichrist album. I have been waiting almost three years since their last release Making Monsters to see what amazing things Andy and Combichrist would do next. I guess I'll have to keep on waiting..but after this album..I won't hold my breath.

I know all bands have to explore and evolve, but sometimes it comes at the high price of losing your longtime fans and audience. Thanks to bands like Ministry,Fear Factory, Pigface, Pailhead, Tool , Marilyn Manson and countless other Industrial -gone- metal bands, there is a very thin line between metal and industrial. Fans of harder edged, heavy metal, death rock, speedcore and death metal with be very happy with the latest Combichrist album "No Redemption". I sincerely hope that Combichrist will return to their senses on their next album..if they can be "redeemed" after this colossal disappointment. Andy has always been very versatile when it comes to the variety of styles of all of his various side projects from Scandinavian Cock to Icon of Coil. I understand that DMC wanted the Combichrist name to sell their game, but I wish that Andy would have used a different alias to make such a drastic change in terms of sound for an already well established EBM /industrial act Combichrist. Yes, maybe they will find a brand new audience that will appreciate their new harder sound, but die hard Combichrist fans like myself might end up turning their backs on Andy and his crew if this experiment continues.

It is no secret that I am not a fan of metal or death rock, so I'm going to be bias because I have been a longtime fan and supporter of Combichrist's brilliant EBM/dark industrial sound for years. Is this Metalcore the new direction of Combichrist? or did Combichrist just make this album especially for the video game? If this is their new sound and new direction, then I am not a fan or supporter. I will just have to live with my memories of their great history from Joy of Gunz to Making Monsters. Andy LaPlegua has come a long way from Icon of Coil to this new found death metal sound. Though I don't like metal or death metal, sadly I have heard much better. I think that it was a nice sophomore try, but no prize if you compare Combichrist to any true death metal act. I think it would be the same idea if a death metal act was to start making industrial, Combichrist would of course kick their asses, because that is the style they are most comfortable making.
To sum up..Combichrist traded their EMB synth sound in for generic metal guitars,double bass, and annoying full-throated scream shouts on every single song. It is so heartbreaking for such a huge Combichrist fan such as myself, to sit here in my Combichrist T shirt and have to write such a negative review. However, it is only one man's humble and honest opinion. Just a warning to all Combichrist fans, do yourself a favor and listen to the album first on Amazon or wherever, before you spend any money on a CD that you wouldn't want in your collection and would be embarrassed to even use as a drink coaster....So, with baited breath I will wait to see what the next Combichrist album sounds like, but if it sounds anything like No Redemption, then..R.I.P ..Combichrist. You will be missed.
Watch the album preview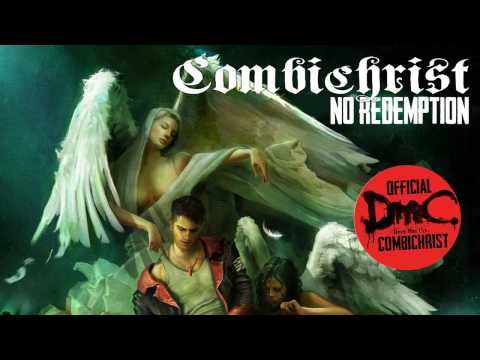 Buy Combichrist- No Redemption
<![if gt IE 6]>
<![endif]>
---