Last Updated on Tuesday, 11 November 2014 20:51
Artist: Beastmilk
Album: Climax
Label: svart records
Genre: gothic rock
Release Date: November 29th 2013
Climax is the long-awaited debut album of Finnish goth rockers Beastmilk. This band was formed in 2010, and has been receiving tons of positive feedback since then. In June 2013, they recorded their debut album at GodCity Studio with the Kurt Ballou (Converge). As the story goes, the members of Converge found Beastmilk online, loved them, ordered both their 7"s, and Ballou soon offered to produce their debut album at his world-famous studio.
And this debut album is quite something. You can hear that this work has been produced in a top studio. But what is production if the music itself is just more of the same? There lies the strength of Beastmilk. According to their label, they sound like "Elements of a gloomier Joy Division, an angrier Echo & The Bunnymen, a medicated Killing Joke, and even a lush layering of Peter Murphy - all this, and vastly more, describes the immediately memorable 3D darkness of Beastmilk."
While the members of Beastmilk originally called their music "apocalyptic post-punk", most of us will agree that they made an outstanding gothic album, with that velvety, wicked, incense-stained quality that only the true gothic albums exhume.
Some of the most notable tracks on Climax are the almost-but-not-quite-cheerful "Genocidal crush", which sounds like The Sisters of Mercy in the 21st century after a nuclear war, and "Love in a Cold World", where Editors are meeting a fleeting Ian Curtis.
Climax is hands-down one of the best gothic rock albums that I have heard in a long time, and that I would gladly shelf with semi-gods Joy Division and The Sisters of Mercy.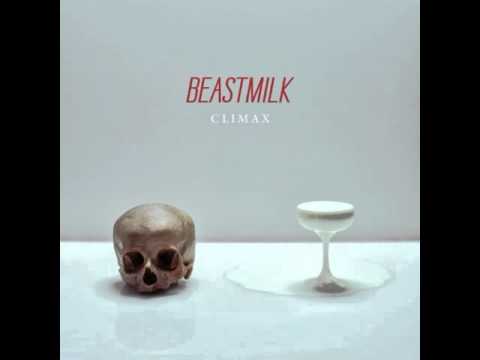 Buy Beastmilk – Climax
<![if gt IE 6]>
<![endif]>
---