Last Updated on Saturday, 13 October 2012 19:39
Artist: The 69 eyes
Album: X
Label: Nuclear Blast
Genre: gothic rock
Website: http://www.69eyes.com/
X, is the tenth album of Finnish gothic rock band, The 69 Eyes. The band has been active for over 20 years, and their experience and craftsmanship is noticeable in their sound. Their song structure, however, is predictable and used throughout the entire album: a slower verse and a more up-tempo chorus with power chords. The variation and song characteristics can be found in the instrumentation, additional sounds and the vocals of Jyrki 69. And while their sound might be more rock-oriented and less chart-ready than their compatriots of HIM, the album ends up sounding polished and ready for commercial use; or for a spin in a cabriolet while you're driving under the moonlight towards your favorite club – wearing sunglasses of course.
The lyrical theme of the album is in line with previous releases of the Helsinki Vampires: dark romanticism in all its forms.
The album starts with the upbeat and traditional gothic rock songs with a dash of 80s pop "Love Runs Away" and "Tonight". The third track of the album "Black" is immediately more interesting: the longer intro grabs your attention and the song itself is reminiscent of Type O Negative's "My Girlfriend's Girlfriend". A similar sound, with a little more influence from The Sisters of Mercy is found on "If You Love Me the Morning After". The first single of the album is the fifth track "Red", a song in which the vocals of Jyrki 69 play are dominant, together with a more pop-oriented keyboard line. This song has the potential to reach the commercial success, and this single from the album is indeed stronger than the album in its entirety with the same song structure repeated at every track.
The second half of the album offers less variety than the first half. While the keyboard line of "I Love the Darkness in You" has potential, the lyrics are totally over the top (she has cemetery eyes, anyone?) and the song structure is the same, again. The second single of the album is the seventh track "Borderline". The opening chords of the album sound familiar – they bear resemblance to a Tiamat track. As a ballad, "Borderline", offers a welcome break in the album. The more rock-oriented "I'm Ready" is followed by the horror-infused "I Know What You Did Last Summer". The final track, "When a Love Comes to An End" is very similar to the opening track and completes the circle of the album.
Listen to the first single Red here: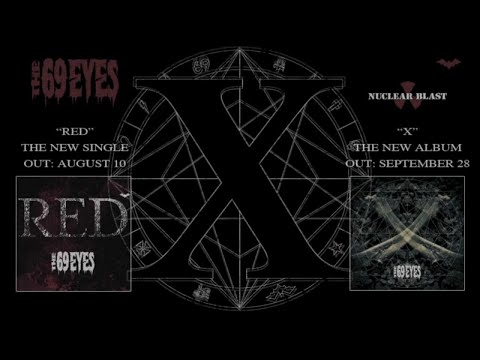 <![if gt IE 6]>
<![endif]>
---