Last Updated on Wednesday, 05 February 2014 18:38
Artist: Death Hawks
Album: Death Hawks
Label: GAEA Records
Genre: psychedelic rock
Release Date: September 13th 2013
With a new like Death Hawks, one might expect furious metal or patriot rock music. In reality, Death Hawks is none of that all: they bring us a blend of krautrock and psychedelia that seems to be coming floating your way, straight from the early 1970s.
Death Hawks is the second album of Death Hawks, following their widely-praised debut album Death and Decay. Combined with their strong live reputation, Death Hawks have quickly gained a certain position in the underground rock scene for themselves.
As GAEA records describes their music: "A stream of consciousness where intoxicating shamanistic rhythm meets cool, minimal saxophone, raw guitar shredding and intriguing, elegant keyboard patterns." Listening to Death Hawks is embarking on a trip, where you float from side to side, with a surprise and new sound-pattern behind every corner.
More than anything, Death Hawks is trippy stuff. On a track such as "Black Acid", I'd describe their sound almost as dark lounge, if that even exists at all. Regardless of the labels we give this track, "Black Acid", a 9-minute-long epic piece, is one of the highlights of the album. The other one is "Blind Daughter of Death", with its hippy-folksy feeling over its dark lyrics. As such, Death Hawks remind me of Hexvessel, with less forest and more acid.
To conclude: Death Hawks is a very strong album, floating in that dark periphery of 70s psychedelia and folk music that is layered with occultism and dark symbolism. For the fans of Hexvessel, Sabbath Assembly and Jess and the Ancient Ones, to name a few.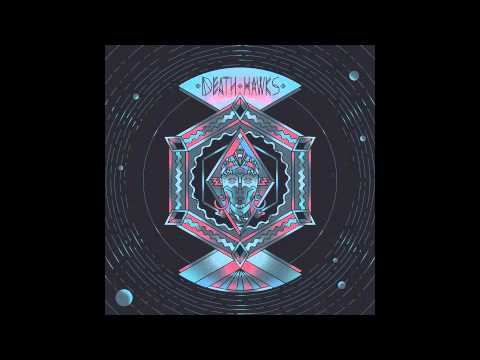 <![if gt IE 6]>
<![endif]>
---