Last Updated on Tuesday, 11 November 2014 20:12
Artist: Sonik Foundry
Album: Realm of Disorder
Label: Nilaihah
Genre:EBM, EDM, IDM
Release Date:  November18th, 2014

Continuing with the rapid-fire releases of 2013's Chaos, 2012's Explosive and 2011's Parish of Redemption, (as well as remix albums) Sonik Foundry's manically productive mastermind Nik. A Demus brings you Realm of Disorder, the sixth studio release since Sonik Foundry's inception in 2007 – busy bunnies indeed!
Killing the Machinegets the party started with brutal, beefy, bassy beats. A promising intro, the tempo ups throughout the track, which is instantly grin-inducing, head-bopping, shoulder-rolling crunk. Nik mixes elements of dark humour into this chunky sonic broth to create a sound which is easily absorbed as well as energising and engaging. The vocals, for those new to the band, come across as a crisper, more cybernetic interpretation of David Draiman's (of nu-metal behemoths Disturbed) scream-shout-howl circa Queen of the Damned soundtrack, with cross-pitch synthwork replacing the churning riffage of aforementioned metallers. This first track swirls into a phukt-up little breakdown at 3:10 which honestly took me quite by surprise!
Terror keeps up the uncompromising bass and backs it up with vaguely Imperative Reaction style drum-loops and a creepy, hammer-horror esque melody. The sound gradually evolves, incorporating mechanistic break-beat roots into the wildly whirling yet intuitive EBM groove. At 4:00 the track invokes a Knife Party style simultaneous boost in pitch and tempo which adds an exciting new dimension before descending, like a sinner into hell, into a weird stutterry drop to finish the track off. To my personal taste, this seems, in reality, to fall a little flat, feeling as if it could have been executed with a little more elegance, but it is not off-putting and the assimilation of new styles sometimes takes a while to gel in the consciousness, both of listener and artist.
Drone kicks off slowly. A morose, distant pulse accompanies darkly introspective, sombre lyrics. This is, however, just to give us a brief reprieve, and soon, the sonic madness begins again, while the vocals remain resolutely moody. This synergy of up-tempo musical input mixing with downbeat wordplay continues as an irresistible, if slightly generic beat/melody structure arrives to spread grins across the dance-floor, before closing with, of all things, a piano refrain! The vocals here remind me slightly of Korn's track Alone I Break, (Untouchables, 2002) although this is the only point at which they resemble Johnathon Davis' tortured wail. Weird!
Deceiver mixes dance energy with metal agro into yet another instantly grin inducing tune. Nik A Demus' confrontational diatribe here is perhaps a little drowned out in production here, which is a shame, but the track holds together well, alternating the harsh-hyper madness with a creepy, hunting, graveyard bridge.
This formula of dance-hunt-fight-repeat continues into Rage, and the project on this track bares resemblance to a version of Alien Vampires with the edges rounded off, creating extra clarity.
Freedom Martyrshas a weirdly militaristic introduction rolling bass and a stomping percussive march complimenting heavily politicised lyrics. The track seems to split in half and again, unfortunately, seems to fall a little flat towards the end, but maybe that is appropriate given the subdued, introspective, if somewhat laboured nature of follow-up Chains, a confession from the perspective of the condemned.
Lie, Cheat, Roamis a good stomp if somewhat muted vocally. Initially it felt a little like filler for me, the, by now, trademark hyping peak seems to go nowhere and again seems a tad rushed, although on subsequent listens I have warmed a little more to the track.
The mojo does definitely seem to come back from here on in though (tbh, I have lost track of the number of albums I have reviewed which seem to lose their way a bit from tracks 5-7!), as Decay brings in clean, electronic complexity and funky beats to create an atmosphere that is at once ghostly and stomping, which zooms effortlessly into the whirling roller-coaster mania of Tormentor. The misanthropic yet resolute wordplay continues throughout to create a sound almost like Depeche mode on a blend of MDMA and bad, paranoia-inducing weed! This I like a lot, and the mojo is fully back and cranked up as we hurtle crazily into Floorkiller which exhibits a wildly unearthly vibe, combined with rave-style loops emblematic of The Prodigy's early work. This hypnotic mish-mash is expertly grounded with a solid beat structure to create a thoroughly satisfying dark-dance sound.
Rounding off the album now, we come to Never Again which has a different sound yet again - a little more percussive, wavering between the harsh and the soft in the synthwork, before finishing off with the Ruined Conflict mix of Terror, a more distorted, somehow milder, steadily building reinterpretation. I'm not sure what this remix really adds, but I enjoyed hearing the track again!
To my ears, this is a superb album, which blends a variety of cross-spectrum influences which, like all of the artist's previous works, take you on a journey through every aspect, every corner, of your psyche while keeping you consistently entertained with irresistibly engaging EBM sounds. There are the occasional moments where I felt one or two tracks didn't quite reach their potential but there are few, if any, artists on the scene at the moment who can keep up with Nik A Demus' continuing wealth of both quality and quantity of output. The occasional hiccups do not detract from the overall awesomeness of the album and if you liked any of his previous work, you'll love this, head and heart.   
Take a Listen: "Pre-Release Trailer"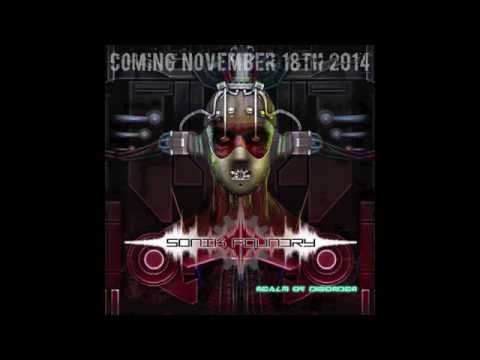 Pre-order:  https://sonikfoundry.bandcamp.com/album/realm-of-disorder
<![if gt IE 6]>
<![endif]>
---