Last Updated on Monday, 14 July 2014 17:09
Artist  The Invalid
Album  The Aesthetic of Failure
Label: DWA

Released: July 26th, 2013

Recent arrivals on the dark dance scene, Edinburgh trio The Invalid unveil their debut album The Aesthetic of Failure.
Deletion is the first track, and starts deceptively soberly. Solemn, menacing synth rises, the odd glitchy noise and stomping bass build until an imagined tipping point, after which the volume and pace cranks up. Richly thrumming sound and harsh static begin to coalesce around half screamed, half sung vocals. There is a certain degree of vocal style here imported from alternative/screamo and what passes for modern metal, although the most striking comparison must be to Imperative Reaction – in places throughout the album they bear sonic, vocal and stylistic similarities to the Californian Electro-Industrial stalwarts, occasionally seeming just a little too familiar.
Next up is Breaksequence, which brings in club-friendly cyber beeps and thudding bass. The sound rolls all together as one and is simultaneously hooky and emotive.   Singing and screaming vocal style is particularly effective on the next track, and combines well with effective builds to create a powerfully rounded sound. Quantify is a little less heart-on-your-sleeve emo style, possessing a much more strident, angry industrial metal rage and attitude. Solid, chunky, relentless beats continue to underpin the track but there is enough else going on to keep it interesting.
As the Sea Turns Black is an odd one, with a few twitchy, glitchy dubsteppy influences chucked in the mix. Peaceful, soaring synths do battle with weird timings and agonising electronic wails in a hypnotic interplay of the etheric and the despairing. This is also the first track where the band stand out from their peers, appearing more unique and less immediately derivative here.
Not Enoughcombines haunting loops with hunting bass over a parade of marching percussion to create a piece which is sombre, glacial yet determined, and Beyond My Reach continues to strip back the layers of sounds, allowing pleading, screaming vocals to realise their true torment.
This all changes for Overstep, which brings back the twitchy noyze, clean melodies and dependable bass, it's enjoyable in its own way but does seem to be flirting with the idea of being another anger-machine from the Suicide Commando production line, although the emotive, higher register metal/hardcore shouting is distinct from the usual growl/hiss of the genre.
I did find Blind Myself to be particularly enjoyable at this point, and as the album progresses, the band do seem to be trying to grow, break away and define themselves. This track is faster paced, dirtier, chunkier and groovier, exhibiting a mad energy to back the wailing vocals and mixing it all up with a smattering of dub-steppy cuts and drops near the end. I found it hard to make the elements gel on the first listen, but on the second I was thoroughly won over.
The album enders another sombre phase in the next track A Dying Breed, which brings the pace back down and develops a number of moods and tones over a stutter, angry backing template of sound, and the mood continues, perhaps unsurprisingly, through Everything is Fleeting, which introduces a light piano melody to combat the harshness and trademark glitch sequences. The lyrics here are misanthropic yet sad, delivered at a slower pace.
Breaksequence is remixed next by Valhall in what starts with a ghostly vibe and drops into a whomping, dubby reinterpretation by the end.
Alter Der Ruine remix deletion next, bringing in synthpop elements to create a mellower, more retro-electro vibe.
We end with Die Sektor's reimagining of Cry Wolf, which is, appropriately for the end of the album, smoother, calmer and more minimalist.
Take a Listen: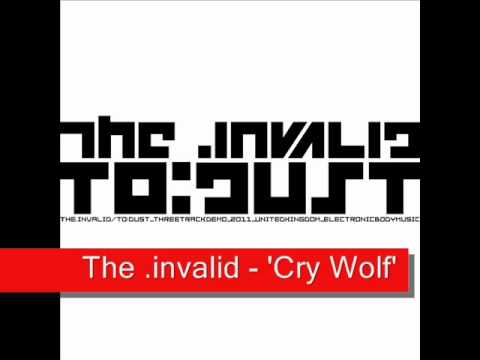 Overall I found the album to be engaging and enjoyable, and it grows and develops throughout its lifespan. Though I would have appreciated it a great deal more if I was not already a fan of Imperative Reaction, which this band do seem similar to. That said, every new band needs its grounding, and The Invalid did develop, expand and experiment beyond this template throughout the album, and I believe that they show the potential to explode in their coming works, if they continue to diversify.
<![if gt IE 6]>
<![endif]>
---