Last Updated on Wednesday, 28 May 2014 16:59
Artist: My Parasites
Album Title: Paralies
Label: Beyond Therapy Records
Genre: harsh ebm/dark electro
Date Released: November23rd 2012
Hailing from New Orleans we have My Parasites. For most of their existence they have resided in the land of Philadelphia. They have played heavy amount of shows including the widely known Kinetik Festival and Triton Festival. They have really shown their love of playing live. After an extensive amount of time My Parasites have released their first album Paralies.
As the filters sweep, tremble, and sway amongst the synth lines in the first two tracks off this album, I didn't find anything to really stand out between them. Fragile Hearts although cooked up a nice little chorus but soon found this track a bit repetitive. Fading out perfectly into Metal Veins and hearing the clanking metal with glitch effects that flow from the depths of this track. Then, we are greeted with a very nice synth-line that makes its lovely entrance a couple times in this beautiful track which is one of my favorites on this album along with Manipulator. This has a very ambient pad flowing in the depths and in the foreground we hear what seems to progress into a very strong synth line. At some points in the album I have noticed that the vocals come across as being a bit loud in the mix and others too soft but nothing detrimental to the overall album that is Paralies.
Plunging right into the remixes, we first gaze our listening pleasure to the Psyclon Nine mix of Fragile Hearts casting its doom and gloom down amongst this heavy club driven track driving a disorient perspective into terror. I have really enjoyed this remix right from the beginning.
Next up we have the Caustic remix of Paralies that I had such a hard time getting through this one. Seeming vary scattered, disconnected, and what seems like an off balance of a mix down it just didn't do it for me.
All in all I didn't find anything to really grab me into this album, but I eagerly await the next My Parasites album and to conquer the dance floor with the utmost potential that has been shown on this release.
Take a Listen: Paralies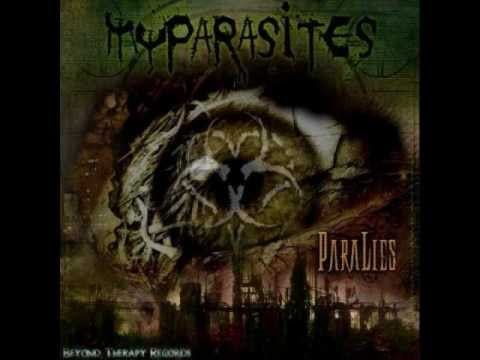 <![if gt IE 6]>
<![endif]>
---