Last Updated on Friday, 02 May 2014 19:33
Artist: BlakOpz
Album title: As Nations Decay
Label: Deathwatch Asia
Genre: Industrial edged hard dance
Released: January 14th 2014
From: Phoenix, Los Angeles USA
Biography:
BLAKOPZ - As Nations Decay: 2nd album from the US industrial/hard dance duo, featuring collaborations with NITRO/NOISE and SLEETGROUT. Limited edition digipak version with 3 exclusive bonus tracks - remixes from AESTHETIC PERFECTION, ALTER DER RUINE and CRYOGENIC ECHELON! Over the past 12 months, BLAKOPZ have served as tour support for AESTHETIC PERFECTION's "All.Cities.Destroyed" 26-date North American tour over the summer of 2012, opened for SUICIDE COMMANDO, FGFC820 and TACTICAL SEKT in the US, and made their first European live appearance earlier this year at Resistanz Festival in the UK.
"As Nations Decay" features 2 fresh collaborations – this time co-written and performed with Russian dark electro outfit SLEETGROUT and Montreal's NITRO/NOISE. The CD version is rounded out by 3 bonus tracks - remixes from the maverick ALTER DER RUINE, CRYOGENIC ECHELON and 2012 touring partners AESTHETIC PERFECTION. Mastered by Jan L of NOISUF-X/X-FUSION, and smoothly illustrated by Nathan Winter of Industriarts Studio (FGFC820, SIN DNA), "As Nations Decay" demonstrates a rapid development in song writing skills and an increased awareness of vocal delivery that make BLAKOPZ now even more of the finished article than "Blood Sweat And Fear" first suggested – a deeper and richer sound that will surely propel this duo harder and faster towards the more widespread recognition their talent's deserve. The initial quantity of 400 CDs comes in limited edition 4-panel digi-pak format – with a slot on the inside cover holding a 6-panel booklet with the full lyrics to the album.
Album Review:

This is a feast of delights just reading the names alone Sleetgrout Aesthetic Perfection Cryogenic Echelon 'Nitronoise' as well as the genre: Industrial edge hard dance and the fact the band sound like CombiChrist – it's just too good to be true! But it is!
As Nations Decay
This is a vibrant mass of rhythms that manifest themselves with undulating wickedness. Vocally right up my alley, as nothing can beat a good scathing ravenous vocal and BlakOpz have that quality in abundance.
The Beginning
Infectiously creative and superb, this bounces vibrantly and melodically, which will get more than toes tapping, I kid you not cyber freaks! This is again vocally nice and raw and hits the spot whipping up a good storm.
Long Live the New Flesh
Brooding with more undulating pulses of bulging rhythms that seduce the listener with more than just passion and merges it with vocally striking caustic breath – really enhancing the mood to greater frenzy – wicked!
Business as Usual
Deep resonating sounds emanate consistently to a euphoric beat until a shrill keyboard melody interrupts. The vocals offer a female voice that adds to the fire and fans the flames nicely.
Behind The Curtain
The injected rhythms are jagged and fuelled with supreme velocity as the track wings its way to the aural and wakes the imagination with a sudden jolt to the system.
The Struggle (vs SLEETGROUT)
This track preys on the soul and feasts on a rapacious rhythm – darker and riveting it holds plenty of mesmerising melody, crafted and delivered with twists of malevolence.
"A superb album that deserves attention as its not only catchy it's awesomely infectious! The tracks swim around in your head long after they finish playing and that's a sign of good musicianship, they have you on your knees licking up the remnants!"
Culturedelete
Ever wondered what a possession sounds like? This is one unusual track that breathes a blackened effect of voices and breeds contempt through its ferocious balance of rhythms.
Before the Rust
Sounds urgent and vehement in approach. The vocal edge is harsh as expected with a run of melodic keys that fill the track out, fit to bursting and offering an immense sound.
Thick as Thieves
Stunted euphoria as this track builds to its climax offering a tremendous rippling core of savage rhythms and subsonic beats, that ebb and flow superbly well on this encounter.
Debris Machine (vs NITRO/NOISE)
This is one mega devilish seduction of portly rhythms that flood the speakers and does not relinquish its hold for a second. The vocals are not as scathing as previous but dark and deep which gives an added dimension to the track.
Turn Key Tyranny
Another devilish track that offers samples and humungous rhythms that are so deep they leave chasms. A sizzling of energetic beats that hit with a regular evocative stance.
Detonation BONUS TRACKS (CD-only):
Dark edgy beats thump their way more or less continuously through the track and enlists a mesmeric hypnotising rhythm and a good track to finish on as it leaves the listener wanting more.
To Sum up:
This whole album is one sizzling, packed to the brim conglomerate of savage rhythms and hard core dance – it's so easy to get caught up in its massive strength and ferocity, helped along by crushing vocals that can seduce upon first listening, so to get a full albums worth, literally has one salivating – or is that just me?
I personally could never tire from listening to an album of this quality and calibre and think the band have certainly produced a winner with these twelve tracks.
A superb album that deserves attention as its not only catchy it's awesomely infectious! The tracks swim around in your head long after they finish playing and that's a sign of good musicianship, they have you on your knees licking up the remnants!
Listen here: As Nations Decay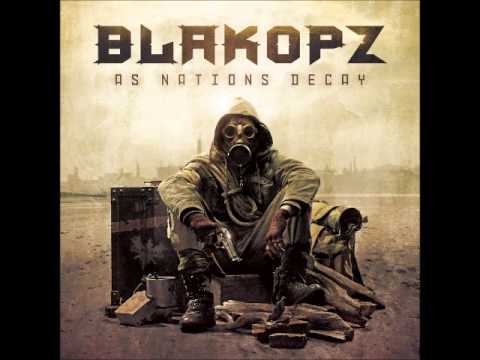 10½/10
Track List:
As Nations Decay
The Beginning
Long Live the New Flesh
Business as Usual
Behind The Curtain
The Struggle (vs SLEETGROUT)
Culturedelete
Before the Rust
Thick as Thieves
Debris Machine (vs NITRO/NOISE)
Turn Key Tyranny
Detonation BONUS TRACKS (CD-only):
Members:
Alex King (Kill the Alex) - Lyrics, Vocals, Production/Programming
M. Weir (Mindbender) - Production/Programming, Mixing/Engineering, Dex,
<![if gt IE 6]>
<![endif]>
---