Last Updated on Saturday, 15 March 2014 20:22
Artist: Aesthetische
Album: Statement / Amplitude Zero
Label: Alfa Matrix
Genre: EBM/ electronic/ dark elektro
Release Date: September 20th 2013
Statement / Amplitude Zero is the new EP by the Brazilian duo Aesthetische. A full-length album is expected soon – it should be released in 2014. The current EP is only 21 minutes in length, and contains 2 new tracks and their remixes.
The style on Statement/ Amplitude Zero is Aesthetische's trademark blend of modern electronic structures embedded in their EBM background. The two new tracks are dancefloor-ready and no doubt are being played in most of the darker clubs around the globe.
Two alternate remixes are provided: one from Edo EldarEdoBot from Germany, with an old-school 90's EBM feel that will surely please fans of Front 242; another from the American outfit Halo in Reverse, who delivers an in your face fat bass mix with a nice and modern electro-industrial approach.
Aesthetische sure now how to get a party started – and their two new tracks are great feats for any club.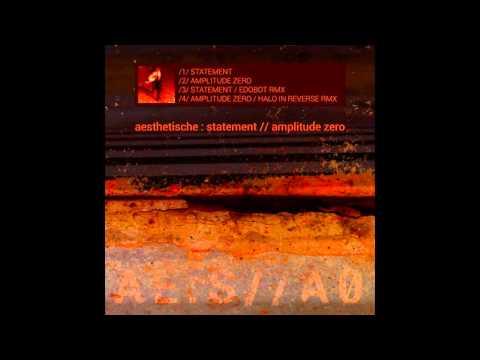 Order Aesthetische – Statement/ Amplitude Zero
<![if gt IE 6]>
<![endif]>
---