Last Updated on Thursday, 13 February 2014 18:52
Artist: Combat Voice
Title: Chaotic Universe
Label: EK Product
Genre: Cold EBM, Industrial

Release date – January 14th, 2013

This follow up to 2011's self released The Last Flow showcases the Belgian duo's (consisting of Bernard Feron , Richard Guillaume) increasingly monolithic old-school, cold-EBM direction.
Opener "Project X" comes across as having a vaguely Rammstein feel, with the guitars replaced with creepy synths and giant, slow drum loops which slowly grow and develop into a menacing scream at the sky.
"The Red Line" is an intricate piece, definitely one of the strongest on the album, a stand out, man-machine horror blast, and hyper-energised to boot. The sample of Charlie Chaplin's "The Great Dictator" is a perfectly chosen tirade against complacency and hate and the song possesses a threatening pace and Alien Vampires-esque melody that this man machine quote complements perfectly. The drums are brutal and thunderous, if slightly generic, militaristic and aggrotechy in style, but backed by the dual vocals and genius sample, it works well and will stick with you.
"Absolute Mind Control" is a simple, four-to-the-floor oontz stomp in which not a great deal actually happens, but lovers of uncompromising cold EBM will find it very morish!
"White Noise" has solid, beefy beats, uncompromising if Germanic dum-dum-dum backing harsh vocals and synths.
"Black Fate" Is more of the same plus some wailing, soaring electronic rises, the solid beats remain and a low, menacing, hunting bass conspire to get fists pumping. All the ingredients are there mixed with a deeply resonant Til Lindeman style basso snarl alternating in trademark fashion with wails to the void.
"Chaotic Universe" has low robo-throat cybernetic moan backing highly produced programming loops and deep penetrating drums. It is sombre, sparse, engaging and more subtle than the other tracks so far, possessing an air of cryptic finality, and a bridge which puts you in mind of a satanic Victorian pier-side!
"Physical Damage" blasts out the speakers with a manic, bleepy melody, at a much higher voltage than "Chaotic Universe's" brief reprieve, it's quite exciting, with a wilder and more inventive energy (the beats even break a little bit!) although it does seem a little overlong.
"Industrial World" is standard retro-industrial/EBM – visceral but not particularly inventive, although it does begin with a glitchier feel than other tracks. Airy vocals with that ever present kick drum loop applied not judiciously seem to work better and give a greater coherence and naturalistic energy to "Adrenaline Fix", another of the stand out tracks on the album, where the duo bring their energetic chi to the fore
"Experimental Sector" sticks to the recipe with dependable beats, although by this point my personal taste was finding the ubiquitous rhythm of these a little tiresome, but this is just a personal viewpoint and fans of relentless drumloops will love it. A darkly euphoric melody and robo-goblin hiss add depth to the track, which develops nicely into "No Return Area" an evocative and scary track with those relentless beats forming the foundations and leading out to "Death Melody" - a terrifyingly desolate shout into the void.
Now. . .many people enjoy simple, uncompromising and relentless beats, particularly old-school fans, but when they are so dominant, persistent and up-produced, (especially when compared to the vocals), you can't help but wonder if it may be to the detriment of other, under-produced elements, especially with some interesting experimentation going on over the top.
Every song, however, shows promise there are lots of good ideas here, but, to my ear, they are only fully realised in "The Red Line", "Adrenaline Fix" and "Chaotic Universe", all of which are very different to one another in terms of mood but all thoroughly engaging.
To me, the album was energetic, inventive and engaging, if a little inconsistent. However, if the duo can get the balance right in production, and go further with some of the themes and ideas they have they could definitely be one to keep an eye on, especially for those of more unilateral retro-EBM who feel that their tastes are not as widely catered for as they once were.

Take a Listen: The Red Line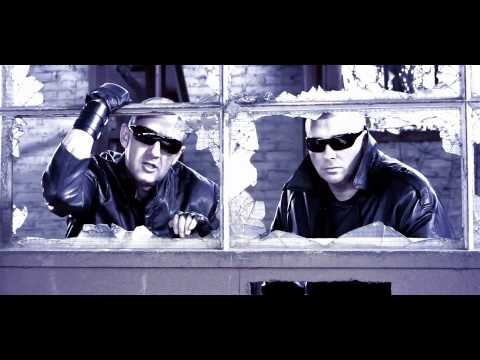 <![if gt IE 6]>
<![endif]>
---