Last Updated on Thursday, 13 February 2014 14:01
Aritst: Agent Sidegrinder
CD title: Hardware  SFTWR (Included)

Label: Artoffact Records
Genre: Electro
Released: June 4th, 2013

Sweden's unfathomable electro visionaries Agent Sidegrinder bring you this rerelease of 2012's Hardwarewith a load of remixes from their back catalogue thrown into the deal (SFTWR). The first seven tracks are originals, the last fifteen remixes.
"Look Within" has a solid gothic vibe, underpinning a spacey yet simultaneously grounded bright synthetic story, somewhere mid 80's coldwave yet expansive, building to an inevitable crescendo.
"Sleeping Fury" is more of a graveyard doom-stomp. It is simple and minimalist yet somehow enticing, the bass and drums building against and playing off the calm-yet-fired-up, resonant vocals. Again, it is otherworldly, nebulous yet somehow very present, ending with weirdly discordant Hammond organ strains and squeaking samples - and perfectly named, "The Dichotomy "between the underlying rage and the surface smoothness of the vocals is patent.
"Rip Me" is pure Depeche Mode, bittersweet vibes and heartfelt, soft-yet-spiteful vocals, also reminiscent of the Smiths or Sousixe and the Banshees if not in sound then mood.
"Wolf Hour" continues to pay homage to these 80's stalwarts, yet brings in creepier, more evil industrialist sentiments, but carried off with the group's trademark light touch.
"Mag 7" continues this retro, analogue sensation, wavering between coldwave and nu-romantic, but slowly, and with such subtlety it goes almost unnoticed by the conscious mind, evolves into a surreal yet soothing journey through time and space
Agent Sidegrinder, despite seemingly nailing their colours with this album to a retro, 80s-synthetic vibe, are and act which will not stay still, their sound evolves, experiments and grows yet again through "Pyre", which somehow has a smooth, almost jazz-like feel to it. The sparse double-bass is straight out of a mellow club scene in a David Lynch film, and is accompanied by a sultry, honey-slow rhythm and its insistent yet smooth vocals. Somehow these seemingly alien elements integrate perfectly into the established sound of the album and the result is as soothingly hypnotic as it is puzzling!
In a lesser act, this constant shifting of influence and style may not have worked so well, but this group are managing to be master, not jack, of all trades. EBM and stuttered samples provide yet another transfixing element in "Bring it Back", regular drumbeats and dependable bass crank up the energy, but with more of that reliable, subconscious chi which characterises this intuitive sound, which somehow owns, experiments and mutates a chronology running from Kraftwerk, through Joy division, and off into the future via Frontline Assembly's less furious moments.
Red Idiot's remix of "Wolf Hour" has moments where the vocals sound almost like an English speaking Til Lindeman (Rammstein) alternating with Skinny Puppy like hisses, and by the end of /MF/MB's reimagining of "Bring it Back" you will emerge, blinking into the sunlight, wondering how far down the rabbit hole you fell. There is, (and I hesitate to use the word!) a certain intuitive synergy working within these remixes. It all plays exactly as any good reinterpretation should; it keeps the spirit of the original while elaborating on its themes.
The next two tracks, re-workings of back catalogue tracks "Life in Advance and Die to Live" integrate moments of twisted energy into the mix, a Leaether Strip/Elevator like reimagining
Fold's interpretation of "Voice of Your Noise" cranks up the BPM into an extended remix, again consistently captivating even if just the bare minimum of sound is used.
"String Strikes," by CVRD exhibits sweet, calming acoustic guitar melody and yearning, kindly vocals reminiscent of Thom Yorke of Radiohead.
"Stranger Stranger" from Dodens Lammungar is dancier, darker and more beat driven than its source material and "Mighty Thor" give us an eight minutes reimagining of "Sleeping Fury" in which not a lot happens, but this effortless connectivity endures, something of a breather but still entrancing throughout.
Du Pacque's take on "Look Within," is a whiskey soaked, grand-scale rock reimagining which could even be compared to the likes of mainstreamer indie rockers like Kings of Leon or Kasabian's gigantic guitar sound mashed up with those 80's Deacon Blue esque vocals.
Th. Tot's 010-195 brings us back again to Dep Mod but now it's put through a filter of Throbbing Gristle with distant, distorted vocals swirling down into an obscure, arcane retro-electro noise-scape, which all seems to knit together and stitch into this albums pure Lynchian alternate-logic ethic
"Black Vein" by Rude 66 is Erasure meeting Skinny Puppy, high on mushrooms in a tasteful, high-class dance venue, which they then proceed to trash! The wildly diverse influences somehow coalesce to form a coherent yet amorphous beast. The primary, electro-80s foundations integrate with dark psychedelic, trip-hop, IDM and even indie beat structures which then mash up and meld with the sort of industrial, EBM, futurepop influences you might expect from the genre. The resulting effect is to continually surprise and beguile the listener.
Sunbringer's version of "Rip Me" is upbeat ambient dance at its most intuitive and engaging and Blackstrap's "Die to Live" reinterpretation has an almost Maserati-esque morphing, mutating, twisting, feel, full of growing peaks and swooping dives.
The whole album plus these excellent collaborative efforts is huge in scope! Long tracks and lots of them, yet they are all so sneakily transformative and intuitive, the album never feels long, you enter 'dream time' where so much can happen in seemingly no time at all!
The whole thing is so gigantic it could be overwhelming, but give up an afternoon, lie back with decent headphones on, close your eyes, maybe letting a shot or two of scotch accompany you on the journey, and let this album, with all its schizoid moods, dark and light influences and adventurous tangential meanderings wash over you! This is not to not to say it's a 'relaxing' voyage throughout! There are moments of harsh, industrial scariness in here too, but this album is about experiencing music to its full intensity, and that is something Agent Sidegrinder always demands!
Sounds like so many things and at the same time like nothing you've ever heard before.
Take a listen: Mag 7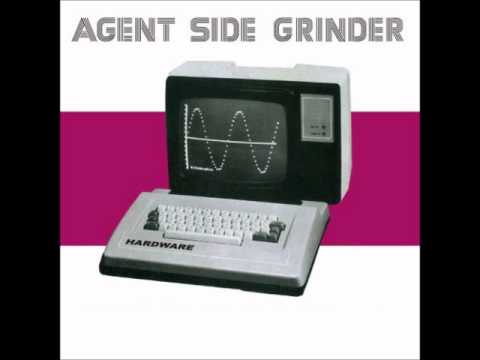 <![if gt IE 6]>
<![endif]>
---