Last Updated on Tuesday, 11 February 2014 14:46
Artist: Aesthetic Perfection
Album: 'Til Death
Label: Metropolis
Release Date:  February 11th, 2014

Genre: EBM
Aesthetic Perfection fans prepare to be challenged! Everyone else prepare for something a little unusual in their new release 'Til Death, which is their fourth full length release. The Los Angeles group's latest work is a bit different to the sort of EBM/industrial sound you may be expecting! It is softer, lighter higher vocals and romantic lyrics permeate throughout most of the album. It's a bit surprising!
"Happily Ever After Starts" off with a militaristic funereal stomp, all rat-a-tat drums and wailed vocalisations, which inevitably lead to the cyber-punk shouts a'la Marilyn Manson et al.
"Antibody" has a very Imperative Reaction EBM synth work vibe, squishing in with lovey-dovey emotive lyrics over a bass driven grind. This new, more electro-pop vocal direction in "Lights Out" (Ready to Go)is a mad-scientist crusade into funky maniac squelches, with the vocals alternating between crystal clear- almost boy-band esque pitch-perfect harmonics and emo-screams, (but with much more hostile and/or bittersweet lyrics "I kinda like how loving you was so horrible...") alternating with these cyberpunk screeches punctuating this new melodic sweetness.
Vocal style and lyrics remain yin and yang in "Death Rattle, This song has an early Nine Inch Nails (Pretty Hate Machine era) vibe to it, with these idiosyncratic nice/nasty vocals underpinning the modern, graveyard misfit ethos.
"Big Bad Wolf" has a lot of yeah-yeahs and ooh-ohhs, darkly soppy romanticism oozing from every heartfelt refrain. Harmonic high-pitched crooning becomes Corey Taylor like growls along a single vocal slide, quite confusing! The upper register vocals seem to oscillate somewhere between Alkaline Trio and Linkin Park
"Oh Gloria" brings in some noisier elements and "The Dark Half" has a fat and funky groove, a hammer-horror-esque monster-stomp with a bit more attitude, clearly gearing up for "The New Black" which, to my ear, has taken the ironic step of sounding very hellektro-industrial while simultaneously taking a lyrical swipe at it! The ballsier sound clearly has something to say regarding the unilateral state of contemporary aggrotech.
It's almost as if Daniel Graves is attempting to serve as counterpoint to all the aggressive fury on the scene at the moment, but when you've been in the game for night on fifteen years, you need be constrained by no-one's preconceptions but your own!
The new sound is controversial, the edges are much softer than earlier works and the emotional content is cranked up. He seems to be deliberately and confrontationally counterpointing what is expected of him - yes, it may infuriate some, but he knows what he's doing. It's a gauntlet, either you will hate this new sound or it throws off your constraints and preconceptions and prepare to be surprised. Many of those fans with narrower tastes may not find what they're looking for on this album, much of it, save "The Dark Half " is a much smoother, introspective affair, but it is skilfully rendered and nothing if not controversial, moving and explorative, and maybe there is room in the scene for something a bit, well, nice! No-one is forcing you to listen and if you want a barrage of unrelenting harshness, there are plenty of other artists out there who can provide it! It finishes on a haunting, heartbreaking note with "Lovesick" an appropriate goodbye to an unexpected album!
Take a listen: Big Bad Wolf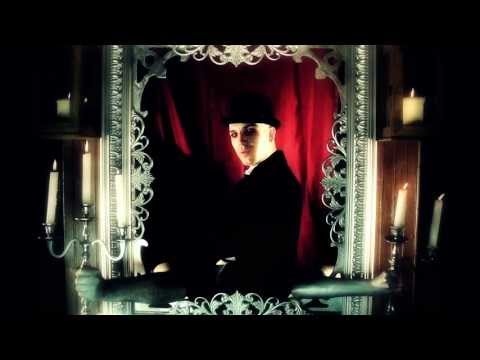 <![if gt IE 6]>
<![endif]>
---