Last Updated on Saturday, 25 January 2014 17:03
Artist: Man Woman Machine
CD Title: From darkness
Released: November 10th, 2013

From: Syracuse, New York
Genre: Industrial/Electronic/Trip Hop
Rating: 10/10
Biography:
MAN WOMAN MACHINE is a Syracuse, NY based electronic duo that utilizes hardware synthesizers to create an interesting blend of industrial/electronic/trip hop laced with powerful yet haunting female vocals.
And now, here is our track by track review!

Dance & Ruse
Strong and invading this really is one sleek track that ignites a distinctive passion. The vocals are sharp and haunting and will lead you down a path of foreboding. It possesses a lot of persuasion and parades its gangling mesmerizing beats to the fore and rather catchy too truth be known, setting the pace for the rest of the album to follow in equally unusual strides.
Invader
The track title reminds me of the Prodigy, and not far removed from them musically either – well only at the start, but for the strong female vocal presence however, the track holds a malingering intensity that is ripe with epic atmospherics. It's dark, moody, broody and sinister and leaves you gripped – in fact you don't want the track to end, so on replay – (come on did you think I wouldn't press replay?) Find things you missed before.
King Noise
This has quite a dark core that festers with a brooding nonchalance. Another captivating track that unleashed will find it invading your senses as it wraps greedily around the aural. That catchy vibe is ever present too which always helps to make a track memorable – this is no exception to the rule either!
Branches
A rather startling track that holds shards of synthesizer notes that bristle with a finely tuned ambiance. The dark haunting vocals scale the depths and feed on the intensity very well. The overall sound of this track is just steeped in a diverse conglomerate of energy and has very mesmerizing qualities.
Drop
Such a difference from any of the previous tracks this is tumultuous, possessing very distinctive rapturous rhythms. The odd incidental sounds add spice to an already hot track!
Forlorn Fortress
This track fills every corner of its dark existence – just nothing escapes its sinewy tendrils that stretch far beyond the eye can see or the hand can reach. It triumphs in the fact that it allures with brooding contentment and creates a powerfully dark malevolent force – the synthesizers being mainly responsible for that whilst the vocals taunt.
Warm Cocoon
Again very different from any of the other tracks this is a breeding ground for diversity with nothing sounding similar in context. Hot bubbling rhythms mix creatively with more sumptuous whispering vocals drenched in melodic seduction.
Monochrome
The thickness and vibrancy of the low sonic keyboard is rife with blended ambiance, weaved into its infectious slowness. Multi flavoured with dramatic wash – this track not only breathes black smoke but it has a powerful colour scheme that paints a monochrome eerie landscape.
Rise of the Queen
With prowling intent this incites dark atmospheric curls of thick and inviting rhythms that swirl around the senses. You can feel the resonating vibes up through your gut as it transforms from the speakers and possesses the listener with a pounding of overwhelming grooves that boldly brews up a malignant storm.
Lusterstruck
Another bubbling dark edged track that stirs up menacing rhythms, spawning a certain madness, whilst the echoing vocal melee engages its listeners. The harsh beats pummel with a constant malingering but nothing is overly done, emanating an extreme cleverness to the bands craft.
To Sum up:
Did I just die and wake up on some alien planet? I say this because I have never heard such an amazingly new sound as this. It is totally unpredictable, diverse, and euphoric with more flair than a 70's disco. It is also powerfully deceptive. The patterns ever changing leave you scintillated and refreshed with a new energy. The tracks chew but do not destroy the aural they just incite it to want it to constantly nibble away on the ears and that is exactly what you get when listening to this album.
It's highly compelling and addictive with a constant churning of 'what is going to happen next?' added to its mystique. The tracks are sculpted and created with very strenuous dark rhythms that wash over you and leave you breathless for more of the same. Its cold fingers still embrace you with warmth, in fact its opposites contrast in equal abundance, which is what makes this album spectacular and so unique.
Here is a band that have found new ground, new edge, new everything. In this day and age it is very difficult to find a new horizon with everything sounding so similar especially with the industrial electronic genre, although there are lots of superb bands out there under the heading, but MWM have added trip hop to the mix and are what they say on the label, just Man Woman and Machine, and with what they have, clearly explored new territory and brought something new to a very old table.
Sourced in melodic hypnotic passion this is very innovative with rich textures and finely tuned mischief, it really messes with your head – you could say mind-fuck and you would have hit the nail right on the head. It leaps out from your peripheral vision when you least expect it and wraps you in its wondrous web of intrigue and mysticism, teasing wildly and delivers in equal strides. This is just one amazing album and one that definitely needs further investigation.
Simply put its Fantastic! It's not all dance and not all dark - it's just the perfect innovative balance!
Track List:
Dance & Ruse
Invader
King Noise
Branches
Drop
Forlorn Fortress
Warm Cocoon
Monochrome
Rise of the Queen
Lusterstruck
Members:
Brandi Kotlarz – Vocals/Synthesizers/Programming
Joe Lupia – Synthesizers/Programming/Vocals
Written and Recorded: Feb 2013 – Sept 2013
At Bleeding Angel Studios
Produced, Engineered and Mixed by Joe Lupia & Brandi Kotlarz
Mastered by Martin Bowes at cage Studios Coventry UK
Band Photography by Whitney Wagner
Artwork, Layout and Band Logo by Brandi Kotlarz
Links:
https://www.facebook.com/ManWomanMachine?fref=ts
www.manwomanmachine.com
Take a Listen to: "DROP" live!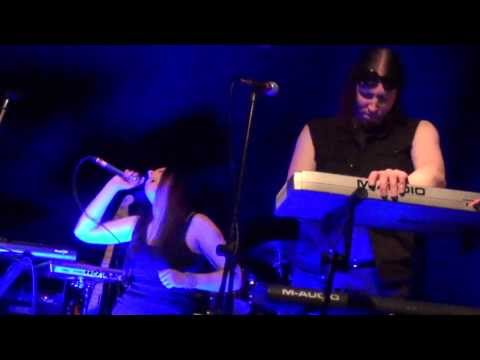 <![if gt IE 6]>
<![endif]>
---