Last Updated on Saturday, 25 January 2014 15:12
 Artist: Liquid G
Title: Overdose
Label:  EK Product
Genre: Electropunk/industrial/EBM
Release date:  June 14th, 2013

Celebrating 25 years on the scene, Belgian electro-punk/EBM stalwart Peter Van Bogeart serves up this latest 15 course platter of psychotically addictive dark-dance soundscapes, under the current guise of Liquid G (Liquid Garbage) Following on from 2011's Biohazard and Medical Waste the electronic punk attitude and simultaneously weird yet magnetic mid-tempo sound continue through this latest release.
Appropriately named first track Introduction lays the groundwork with some solid, regular beats before launching into Drop That Fat Bomb which brings in upper register zaps, buzzes and squelches. This is an album that grows and evolves as it progresses, and as Lies develops into an epic wall-of-sound, engaging everything from bass through to treble, while retaining a smooth and accessible feel. This track has a natural, liquid flowing feel to it which accentuates its dancey vibe.
Fuck the System is up next, bringing in euphoric/demonic vocals, which seem to meander somewhere between Combichrist's Andy la Pluega's twisted ecstatic energy and Skinny Puppy's Nivek Ogre's darkly experimental terror-howls.
Explaination continues in this vein, bringing in a squelchy bassline and sounding even more Puppy-esque. . . but a Skinny Puppy married to fast paced rhythms and contemporary dark-dance sensibilities. This album has a fierce, relentless energy that carries on through the amphetamine breaks of Inferno.
The vocals wail on in the background – distant, creepy, tormented and screechy. Pills takes on a slightly harsher, aggrotechy tone for a while, with yet more Combichrist style conflict and storming beats, after which we launch into title track Overdose, which is, in effect, split into three with part 2 and an extended mix clocking in at tracks 12 and 15 respectively. The overwhelming multi-layered vision continues but over beats and breaks appropriate to a warehouse party or old-school rave scenario, which continues to play out well through Insomnia. At times it feels like a less structured (I mean that in a good way!) version of Alien Vampires. The sound is well rounded and doesn't want to let you go. The album also feels like its blends into one amorphous singularity, as most tracks lack the sort of easy hooks often found in the genre. This sound is, however, highly accessible, blending a bold industrialist/electro-punk structure and ethos, with inventive EBM/rave/techno sounds, to make an addictively up-tempo, doom-laden entity.
The final stretch starts with Reject Religion, showcasing more of Liquid G's anti-establishment message before finally relenting a little on World Hunt a slower, more brooding outro, percussive and disjointed, before giving you a shot in the arm, one for the road, with the extended Overdose mix.
Take a listen: Preview of the Album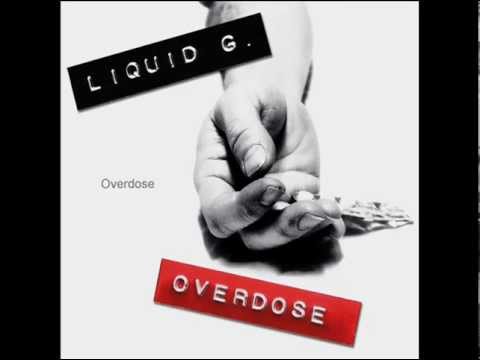 Buy Overdose
<![if gt IE 6]>
<![endif]>
---