Last Updated on Monday, 30 September 2013 18:59
Artist: Doganov
Album: Something Dark To Dance To
Label: unsigned
Genre: dark elektro-metal
Release Date: July 1st 2013
Doganov are a Belgian band that formed in 2010 when two musicians and songwriters that had been working together since 2004, producer Frederic and vocalist Karl, rolled up their sleeves and got this project up and running. The result is their first EP Something Dark To Dance To.
Without bass and drums, but with swooningly deep vocals, pulsating electronics and infectious riffs, Doganov combine the electronic metal of Rammstein with the more danceable tunes of EBM bands like Combichrist, and bits and hints of dance music from the 80s, 90s and 00s. The result is great undercooled music, leaving us with the same chill as Editors and I Like Trains.
A weak point of Doganov is their lyrics, that remain at the same standard level as the average of most current bands. Even though most electronic bands seems to be fishing in the same pond for their lyrics, it strikes me as a bit of a disappointment in Doganov, given their very original sound.
The opening track "Endear You" shows us all the ingredients Doganov use in their enticing blend: a bit of Rammstein guitars, deep vocals that remind me of Diorama and Dairy of Dreams, and an overall get-your-booty-on-the-floor-now punch in their electronics.
"Drain the Ocean", the 3rd track seems to refer to Garbage's Version 2.0 "You Look So Fine" with its synthesizer sample, but it results in a more introspective track than the 90s alternative rock anthem.
"Cry With Me" is a ballad, that does not work as well as the other, more danceable tracks. The single "History", on the other hand, shoots straight for the stars, and is a sexy, tongue-in-cheek-kinda danceable track.
Here and there, the synths and guitars seem to be vying for room in the mix, but that seems mostly to be the result of the production – which is overall very sleek and polished, showing the skill and love these gentlemen pour into their music.
To sum it up: if you want to explore the boundaries of elektro, metal and dance, check out Doganov's Something Dark To Dance To. My best guess is that these guys will land a record deal very soon.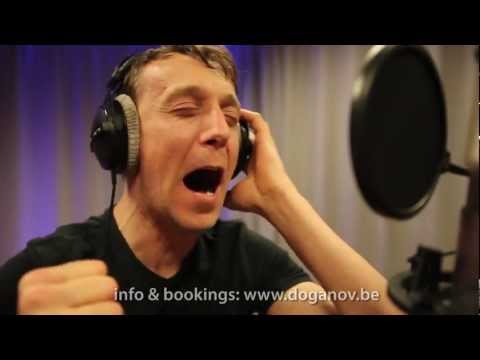 <![if gt IE 6]>
<![endif]>
---