Last Updated on Sunday, 08 September 2013 19:47
Artist: Synapse
CD title: Audio/Visceral
Label: Unsigned
Genre: Electronic/Synthpop/Industrial
Released: March 23rd, 2013
Founded in 2010 Synapse are an American three piece electronic band from Denver Colorado. The band was the brain child of vocalist/programmer Mark Sousa, with vocalist and keyboard player Sarah Chenowith and Patrick Hogan on keyboards and programming. The band particularly enjoy their live on stage performances and offer a mix of energetic dance tracks and atmospheric electronic tracks.

Audio/Visceral is their debut album and is available on I-tunes, Band Camp and the usual online outlets. Physical copies of their album are available directly from the band. The album has ten tracks plus two remixes. If you are a fan of bands like Imperative Reaction, Assemblage 23, System Syn and Covenant then this band is worth listening to.

You can go to their Reverbnation page on FB and have a sneak preview of four of the songs from the album:   http://www.reverbnation.com/synapsedenver

Or you can hear the entire album on Bandcamp at  http://synapsemusic.bandcamp.com/

As Dust (corrected) - A melodic track to kick start the album. The combination of Mark and Sarah's vocals work well together.

Memory – Great synths and vocals on this great upbeat dance track.. This song really has a striking Imperative Reaction flavour to it. After listening to the album I was pleasantly surprised to learn that the album was actually mastered by Imperative Reaction's Ted Phelps.

Dust and Steel – I particularly like the intro to this song. Mark's soft vocals blend well with the atmospheric synths and it is refreshing to hear the lyrics with such clarity.

Signal and Noise – This song has a distinctive Sci-Fi feel to it in places. I close my eyes and images of Blade Runner pop into my head during the instrumental sections of the track.
Void – Another track with futuristic Sci-Fi undertones to it.

Storm a Shadow – One of the strongest tracks of the album. Faster paced, a catchy beat and I find myself dancing in my chair and tapping to it every time I listen to it!

Vapour/Burn – Both have a real Covenant flavour about them. Two of the strongest tracks on the album. The intro on Burn sounding akin to Covenant's 'Like Tears In Rain', yet a great track in its own right.

Pillar – A dreamy echoic atmospheric track..

Equidistant – The inquisitive nerd in me had to look this word up. Used in Maths terminology meaning: 'A point the same distance from two or more other points.' A pleasant track with soft lyrics and a steady gentle beat throughout.

Memory (Imperative Reaction Remix) – An excellent Imperative Reaction remix and my favourite track of the album. As a DJ I hear a great potential floor filler and I will play this in one of my sets!

Signal a Shadow (Lost Signals mix by System 7) – I'm not normally a fan of vocoders but it works well on this song giving a robotic futuristic sound to the vocals. A great remix and another one for the dance floor!
I have listened to this album several times and as a debut album I'm very impressed. Now, let's get this out to the masses as Synapse have the potential to be up there with bands like Imperative Reaction, Covenant and Assemblage 23.

I rate this album 8 out of 10.


Take a listen to a few samples: Auido Visceral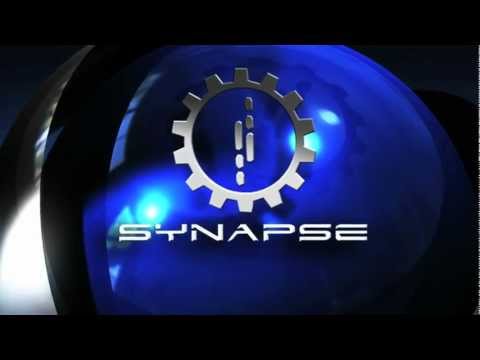 <![if gt IE 6]>
<![endif]>
---