Last Updated on Monday, 22 July 2013 18:35
      Artist: Ex Machina
CD title: No One
Label: FUEGO
Genre: Electronica, Pop, Alternative, Experimental

Released: April 26th, 2013
Originally founded in 1999 by Claudio Charriatti as a means of allowing himself true artistic freedom, Ex Machina released two albums, Warten and Lichten independently before signing with FUEGO and releasing Bewegung in 2006.
The project gained its second member in 2008 in the form of Berlin based drummer Tobias Scwherdt. No-one is the second album (after Line of Time) since this expansion and the synthesis between the two artists seems to be working superbly.
I had my first experience of this album whilst stuck in traffic, rushing to meet a deadline, and from the moment its first sultry notes ebbed confidently from the speakers, my concerns suddenly seemed so small. I wound down the van window, let the sun and smells of England's green and pleasant land stream in, and allowed Ex Machina's vision wash over me.
This project has a dualistic nature - one the one hand, the easy flow of the melodies, the soaring strings and relaxed squelchy bass are all very soothing - perfect for easing you softly down from a hangover/comedown/bad day at the office (Unless you unwind by thrashing, screaming and moshing, in which case, maybe not!)
On the other hand, there is something dark and menacing lurking in the background of this vision. To create something which is simultaneously chilled and grand is no mean feat, but this work nails it.
The band informs us that the album tells the story of a prophet with a vision of impending doom, and the story of this prophet's journey. Throughout the album, you will experience this messiah's ascension, trials, battles and resolution. Each track is certainly a unique yet seamlessly interwoven part of the whole.
The vocals at any given moment seem to hover around the hopeful, yet vulnerable energy of Robert Smith of the Cure and Depeche Mode's Martin Gore, but also at times more reminiscent of Bill Leeb's (Frontline Assembly) powerful, desolate cries. These vocals never settling too long on any one, however, and CC's faint two tonic burr lends them a truly resonant individuality.
Musically "No one" is gorgeous but very hard to pin down. Throughout this album you'll hear influences of orchestral, classical composition, synthpop, darkwave and occasionally laid-back industrial, yet it all gels very well.
On first listen, some tracks can seem merely soothing and mellow, but everyone also has a certain smooth energy underpinning it – this is a highly meditative work, and each listen allows you to appreciate greater depth.
"Into the City's" deep strings and calmly proactive melody open the album beautifully, guiding the listener into Claudio and Tobi's epic vision.
Title track "No-one" perfectly demonstrates the blending of the restful and evocative which make this project so unique, and although it is very moody it also has an oddly funky rhythm.
"Paradise" becomes a little darker and more challenging - suddenly the clouds are darkening on this epic journey as the notes become harsh and uncompromising.
"Introspective" shifts gear yet again into a more classical vein, it is a joyous instrumental from a passionate composer of old times. The album continues this habit of taking you up and then down throughout.
"Lost Day" opens up seeming to have regained some of the old creepiness, yet the bass and string element of the synths are so hopeful you are left conflicted. The vocal influence of the eighties is particularly clear to see here, with even elements of early Smiths being evident.
"Eternity" again shows off the pair's musicianship; pianos, vocals and electronics all blend effortlessly into a beautiful smoothie of sound.
"Insanity Creeps" is the most foreboding offering so far, having particular effect coming after the sublime Eternity - if the album can be seen as an epic adventure, then Insanity Creeps is a battle scene, although by the end this battle is resolved.
"Last Time" brings the album's message into sharp focus, our hero confronts his enemies to a backdrop of creeping synths and soaring bleeps.
"Buhne des Lebens" is an oddly ceremonial piece, slow trumpets and marching drums. Images of the coronation of some alien king spring to mind, soldiers parading to this genius earthman's tune – very strange!
"Drifting" returns to the chilled side of the album, sending you spiralling down through layers of light towards outro Spheric Apocalypse, which offers peaceful closure at the end of this turbulent journey. You feel joy, at rest in peaceful countryside, imagining soaring medieval vistas. It winds down with instrumentals of "Lost Day", "Eternity", "Introspective", "Buehne des Lebens" and "Drifting" which, without the darkly prophetic vocals, lean even further towards the more calming, light side of this work.
The album is deep, effortless and multi-layered if perhaps a little over-long. Throughout there is a wall of sound, but one made of foam and not brick.
The band are planning on realising this vision live soon with a fully immersive stage show and live rearrangements, keep track of their website (www.exmachinaproject.com) for dates and venues.
CD's and downloads are available via itunes, Amazon and the band's website.
Take a listen to: NO ONE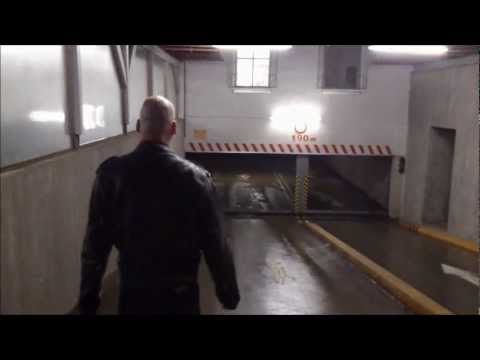 Buy Ex Machina- No One
<![if gt IE 6]>
<![endif]>
---