Last Updated on Sunday, 07 July 2013 11:51
Artist : Global Citizen – London UK
Album: NIL BY MOUTH   

Label : Glory & Honour Records
Date Released: April 2011

Genre: Electronic/ Dark Wave/ Erotica

Artwork: Tiziano Tornatore                                                           
                                                                                                                    
Design: Rich Mills 
                                                     
  
Following their first album Master Stroke in 2008 and a move to Glory and Honour Records in 2011 Global Citizen     released their second album Nil By Mouth in April 2011. Frontman shaven headed Rich 'September' Mills who resembles a cross between Star Trek Romulan Nero and Ming The Merciless wrote and produced the 11 tracks on the album. Rich has a deep, dark, distinctive, alluring voice which complements this with hypnotic Numanesque style synths.

Nil By Mouth is a dark, erotic, electronic album ideally suited to the Alternative/ Fetish scene but equally good to play privately at home.
Three of the tracks Kimoch II, Nil By Mouth, and Immaculate Ejaculate are instrumental. The rest of the album was co produced and mixed by Saul Strange who also did the brilliant Glitter and Ash remix of Tea Time.
Global Citizen was awarded the 'Best Album' award in the DSO Music Awards in 2011.I rate this album a well deserved 9 out 10 – a guilty pleasure!

Kimochi II - A dark, heavy instrumental track with a pulsating throbbing rhythm throughout with the Japanese words 'Kimochi' whispered seductively in our ears. I love the long pause near the end, then the music bursts back in and is thrust upon us briefly once more.

Don't Make It Slow – The song which really sets the mood for the album. A slow steady synthetic beat with Rich providing deep robotic like vocals which penetrate deep into your dark soul. Lie down …. enjoy the ride!

Things – My favourite track of the album. Simple lyrics with fantastic synths, very reminiscent of early Numan. The instrumental part is brilliant. This song sounds particularly good live and the drums make a noticeable difference. Incidentally this is the track that Saul Strange did the most mixing on. Good stuff!
New – This is a follow up track to the song 'The Only One', a song about a fictional prostitute girlfriend in a relationship with the singer. 'New' is about the same girlfriend returning to the game and advertising herself as 'New' after their relationship splits up.
Nil By Mouth – Instrumental track from which the album takes its name.
Broken Doll – Although some may perceive this song to be about a girl trying to escape from a violent relationship it is actually about a girl who enjoys this kind of rough, sadistic relationship and acts out her 'violent sexual fantasies'. However as the levels of violence increase so do her injuries, resulting in hospital visits. The girl makes up silly excuses for her injuries culminating in increasing violence so as the story goes on she becomes weaker and weaker and more 'broken' until in the final verse she is hanging on to life from her injuries. Musically another fantastic track. Rich's vocals on this track are like dark velvet. 
Early Morning Star – An erotic song about anal sex. Great music for the Fetish club scene. Raunchy track with erotic lyrics and tantalising whisperings from the singer, teasing you in as the song builds into a crescendo.

Your Majesty – A song about a disastrous relationship where no matter how hard he tries to please he can never satisfy 'your majesty'.
The Hilton – A song about a first sexual encounter with a soon to be long term girlfriend. Based on a true experience when the singer was staying at a friend's home but managed to get locked out in the early hours of the morning so ended up staying at the Hilton. This track along with 'New' are Rich's favourite tracks from the album. 'I just love the atmospheres they create' (Rich Mills).
Immaculate Ejaculate – Instrumental
Sleep Precious Sleep – A song about the same relationship which started at the 'Hilton' but it is now ten years later, towards the end of their time and how the singer thinks his girlfriend was feeling at the time and time for him to reflect on the relationship. A gentle sensitive song and a strong favourite with the fans and my equal favourite with 'Things'.
This track is currently available to order as a limited edition 7" picture disc with the 'Hilton'. 
Take a Listen to Global Citizen: Nil By Mouth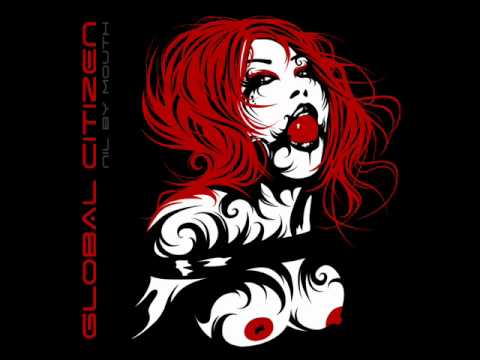 Current band line-up
  Rich 'September' Mills - Vocals
  Jo The Waiter - Synths
 
  Jakob January - Drums
 Official web site:  http://www.globalcitizenofficial.com/

 Facebook page:  https://www.facebook.com/globalcitizenofficial?fref=ts
 Gigs/Events - 2013/2014
-August 9th 2013 – Global Citizen and Deviant UK play at Mother Live – London
-October 25th 2013 – Global Citizen appearing at the Bram Stoker International Film Festival in Whitby. 
http://www.bramstokerfilmfestival.com/children-of-the-night.php
 May 3rd-4th 2014 – Spider Web Festival – Bristol
 August 15th- 17th 2014 – ALT FEST
<![if gt IE 6]>
<![endif]>
---