Last Updated on Monday, 03 June 2013 18:18
Artist: Implant
CD title: The Productive Citizen
Label - Alfa-Matrix
Genre: EBM, Industrial

Implant is the work of Belgian artist Len Lemeire. The Productive Citizen is Implant's 9th release, and Lemeire is highly sought after as a producer and re-mixer., working with acts as diverse as Unter Null, and Front 242. The offering on the album are varied stylistically: EBM Electro-Clash and Industrial, featuring vocal contributions from Leaether Strip, Krystal System, and XMH. A deluxe edition of the album includes a diverse cadre of remixers including Diffusion, Pankow, Shiv-r and others. Disk two includes twelve remixes and a third CD Increased Productivity is available only direct from the label, or at merch tables when Implant launches a tour supporting the album.

The album opens with the resigned listlessness of "Lord, Knows I've Tried." It treats one of the themes for Implant's The Productive Citizen, a voice that's darkly resigned to faceless automation and resentment towards technology. The oddly titled "C.C.C.P.C.C.T.V." offers a counterpoint: is an up-tempo floor-stomper which glee-fully incorporates campy nods to pop in its chorus. The song also draws from house influences: the Implant catalog is more complex than it might first appear. "The City" grooves off a bass-line which nods to early Ministry's dance/synthpop era. "Jour Nuclearie includes guest vocal from Alfa-Matrix label-mates Krystal System and is noisy enjoyable electro-pop. "I'm in Control" is a slow BPM and has some nice moments, but is less interesting. The menace comes back a bit with "I'm the Teacher" which stubbornly insists its title repeatedly in a way that reminds the listener just that. The track is brutal and effective in a way that can't be matched by a lot of the distorted screaming of terror EBM bands. One of the more positive tracks, thematically, is "The Game," --while it is difficult to tell whether the track is just darkly ironic, or not --it's a great track however you interpret it. "Biodigital Nightmare" is distorted and claustrophobic, the refrain opens up into orchestral, resonant synths. Towards the album's end, the song "Jonny" includes one of the album's many guest vocalists. The track is mellow and dance-oriented, the vocals are repetitive and haunting: it reminds the listener why future-pop held such sway in clubs not so long ago.

Implant is probably known best, especially here in the states for its production contributions and remixes, but as The Productive Citizen shows, that Implant has added another jewel to its already impressive catalog. The offerings on The Productive Citizen are varied and compelling. The available two disks worth of remixes feature enough big name clout to make this a must-have.
Take a Listen: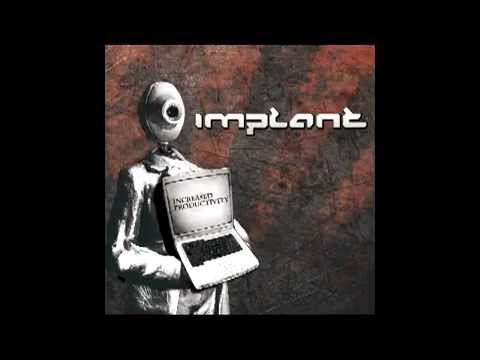 <![if gt IE 6]>
<![endif]>
---