Last Updated on Saturday, 11 May 2013 12:17
Artist: Dunkelwerk  
CD Title: Operation:Duesterland
Label- Alfa-Matrix
Genre: EBM, Industrial
Before attempting to review Dunkelwerk's  Operation: Duesterland I have to confess that despite my German bloodlines and heritage the only German language that I actually know I learned from early KMFDM and Rammstein albums. Dunkelwerk is also one of the few artists that I don't own albums by with the exception of a few compilation tracks here and there so I was very interested in finally being able to check them out. In doing some research on the band is appears that Martin V. Kester really likes to take his time between putting out albums as 4 years have passed between each of the releases of  the three full lengths that make up Dunkelwerk's back catalog. I also read that this was supposed to be a concept album but because of the language barrier I can only assume that it's about war, death and defeat.
Martin uses an odd mixture of spoken word and screaming on this album mixed in with a ton of german samples. Now the combination of those three results in a very emotional album and one that might be fantastic on a long cross country drive at night but upon my first three listens left me wanting. I found some of the samples that he uses to be interesting such as the children's song on "Kommit" or the traditional german fold music on "Schnuffi!? But they are used sparingly. One sample that appears on a few tracks is one of a machine gun fire and I found this to be grating rather than add anything to the songs.
The overall album feels very atmospheric, orchestral and dream like and at times is very moving and powerful and yet when Martin try's to push the bpm's up and focus a little more on the dance floor is where he really loses me. I can see where Dunkelwerk gets the comparison to Wumpscut , Suicide Commando and Hocico with his stompy beats, distrorted vocal and soundscapes but there is just something missing that those artists have that Dunkelwerk doesn't. I don't mean to make it sound as if this album is bad because it's not and there are moments of it that shine such as the very Doubting Thomas sounding " Häuserkampf" or "Katjuscha" which could have been a Delerium track. I'm not sure if a concept album is really the way to get introduced to a band but I'm going to withhold my judgement on Dunkelwerk for another 4 years (if his release schedule holds true to form). It may have been the language barrier or maybe just how uneven this album is but I can't give it more than a 6 out of 10
Take a Listen: "Kommit"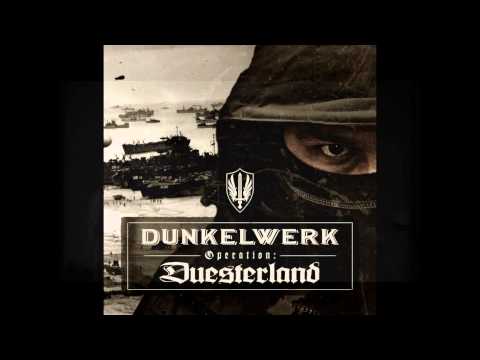 Buy Dunkelwerk- Operation Duesterland
<![if gt IE 6]>
<![endif]>
---