Last Updated on Wednesday, 08 May 2013 19:01
Artist: Juno Reactor
CD title: The Golden Sun of the Great East
Label: Metropolis Records
Genre: Goa, Trance
Overall Rating: 5 out of 5.
Juno Reactor is one of those bands that I've always enjoyed relaxing to. My first taste of them was the 1997 album, Bible of Dreams. I was instantly hooked on the fusion of Goa Trance and Tribal beats. All of the songs on that album told a brilliant story and I would lay in bed just letting my mind wander while the music flowed through me. I was a huge fan up until 2004 when I got a bit too burnt out on all of the Matrix fever that was sweeping the nation and I kinda let the band fall of fmy radar. The only tracks I was hearing in the club were "God is God" or something of The Matrix Reloaded. So I let the band fall off my radar and moved on to more interesting musical pastures. Something I am now regretting after hearing The Golden Sun of the Great East.
TGSOTGE, is the 8th full length album from Juno Reactor and sees the project return to previous form. It is Juno Reactor doing what they do best, which is creating big sounding Goa Trance that samples musical influences all over the world to create a lush listening experience. While I wouldn't call this album ground breaking, it is a nice return to form, reminding me of albums like Shango and Beyond the Infinite. There is a strong club vibe to the album, with several of the songs being perfect floor-fillers. "Final Frontier", "Guillotine", and "Invisible" start off slow but build up quickly and go on average for 7 to 10 minutes. Perfect for revving up the dancefloor with their high energy synths and dance beats. If you miss the Goa Trance movement of the 90's, these will be your favorite tracks. If you prefer the slower and more atmospheric sound of Juno Reactor, I would recommend "Shine" and "To Byculla" which combine sitars, heavy basslines and tribal beats. The techno elements on these tracks are dialed back significantly but are still present enough to give the songs that futuristic feel. "Tempest" and "Zombie" harken back to the darker more industrial sounds of Bible of Dreams with ominous soundscapes, wailing guitars, and sinister sounding synths. I found myself wondering what Frontline Assembly tracks I could segue into them to create an awesome mix. Ultimately I really enjoyed the fact that this album didn't feel like it was trying to make a specific point. It wasn't a dance album or soundtrack, or even a thrilling narrative. It just felt like good solid hard tribal GOA trance for trance sake.
Having taken a break from Juno Reactor for the past couple of years, this was a nice album to come back to. While the creative force behind the project, Ben Watkins, doesn't deviate from his previous formulas, the album does feel new and unique. There's a refreshing innocence to TGSOTGE, that I found lacking in the releases from about 10 years back. A renewed energy that carves out new worlds for listeners to dance into and get lost exploring. While I wouldn't call this the most ground-breaking release of the year, it is one I will happily put on my annual top 10 list.
Take a listen: Guillotine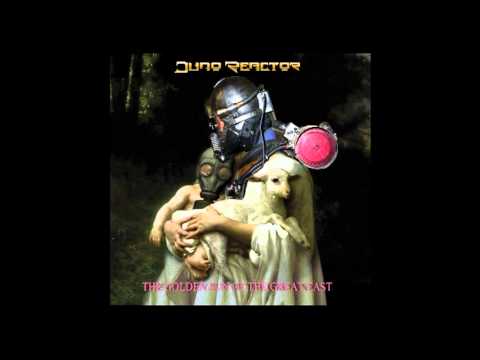 Buy Juno Reactor-The Golden Sun of the Great East
<![if gt IE 6]>
<![endif]>
---