Last Updated on Wednesday, 09 January 2013 19:49
Artist: Legend
CD title: Fearless
Label: Artoffact
Genre: Electro-Pop
Website: https://www.facebook.com/Legendband
Reviewer: DJ Kantrip
Date: 01/08/2013
A week ago I did an episode of my internet radio show, Darkbohemia, based around my Top 10 albums of 2012. Only 2 of them were not albums I had written reviews for which I plan to correct right now. Number 9 on the list was this debut album from the Icelandic duo, Legend. Fearless is a strong case for keeping an ear out on all things musical that come out of Iceland. If Bjork and Sigur Ros weren't enough of a reason, then Legend will definitely make you more curious about things Icelandic.
Legend is nothing like Iceland's well-known musical exports. This is an album for anyone who likes the Dark Alternative genres. There's a bit of Industrial, Darkwave, Goth, and Electro-Pop all mashed up beautifully in this album. The band uses all these elements to start Fearless off very dark and stompy, but as the album progresses the mood lightens as the songs take on a more pop music focus. Tracks like "The Benjamite Bloodline", "City", and "Amazon War" have a very Project Pitchfork sound to them. Aggressive sounding synths and simple marching beats define these opening songs. As the album progresses the Legend sound is more akin to bands like The Knife or The Presets. Electro-pop that pushes creative boundaries and aims to be something unexpected to the listener. The title track, "Fearless", "Sudden Stop", "The Devil In Me", and "Sister" all embrace this focus, and ultimately defined the album for me. While having those darkwave and industrial synths and atmosphere in the beginning of the album hooked me, the later more pop-driven songs are the ones that sold me on the act.
Another comparison I thought of while listening to Fearless, was Wolfsheim's Casting Shadows. I loved how Casting Shadows started off rather somber and with a lot of atmosphere but hit a point in the middle of the album where the mood began to lighten. That is exactly what listening to Fearless was like for me. The darker shades of the band that were cast on the first part of the album, start to lighten up through out the title track "Fearless" and when the next track "Sudden Stop" begins the lighter electro-pop side of the album.  
While I love the music on the album, like all albums I review, the vocals are what sell me the strongest on if it is good or bad.  I'm happy to say that vocalist, Krummi Björgvinsson, sold me from the start with the opening track "Amazon War". His vocal range and power is amazing. From the droning throat singing on "Amazon War" to the sinister chant like style on "Benjamite Bloodline" and finally the hopeful and passionate tone on "Fearless", Krummi's voice flexes to whatever mood the album takes perfectly. Instrumentalist, Halldor Björnsson, is also in top form here. He knows when to push a song just far enough into epic anthem territory, like on "Traveling Blind" with its layers of synths and uplifting atmosphere, and when to keep the synths and beats very simple and primal, like on "City". Between Krummi's harmonies, and Halldor's stellar melodies there is very little to pick apart here technically.
After listening to this album extensively, I really wish I had given it a higher rating on my top 10 of 2012. This is a brilliant debut release from a band who's native homeland is known for producing innovative musical artists. If they haven't started playing Legend already, ask your local club and radio DJs to start spinning it now. It's full of club hits and chill out tracks.Fearless has a little bit of something for everyone who enjoys dark electronic dance music. The band has already lived up to their name (in my opinion), and has made me a lot more curious about what other music gems have or are coming out of Iceland now. 
* Legend's Fearless was our top album pick on our Best Releases of 2012 on Grave Concerns E-zine.
Take a listen to: "City"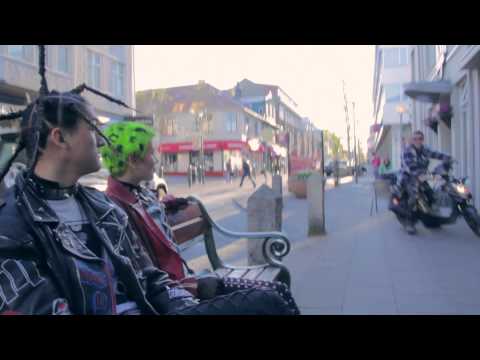 <![if gt IE 6]>
<![endif]>
---