Last Updated on Wednesday, 08 August 2012 19:18
Artist: Lords of Acid
CD Title: Deep Chills
Label: Metropolis Records
Genre: Electro/Industrial/Techno/Trance
Website: www.lordsofacid.com
Reviewer: Dee Bauchery
Date: 08-06-12
I hate to admit that I hadn't really paid Lords of Acid much attention since Our Little Secret in 1997. Mind you, every now and then I'll hear something from Lust thrown in on the dance floor, and you bet your ass, I'm out there in a heartbeat. So, when I heard a new album was coming along, I had to catch myself up on what they've been up to. Sadly, I wasn't thrilled. There's just a certain energy to the old songs that's tough to recapture. Lots of good remixes out there, though, that brought new energy to what the studio just couldn't quite nail down. Therefore, I approached listening to Deep Chills with trepidation. Such trepidation that I literally forgot the album dropped this April. Now that I've given it a good listen, I wish I had picked it up earlier. Their forked tongues are planted firmly in-cheek. It's your call on just which cheek.
I'm really glad to hear the Lords bringing back the dirty. From running away from home in the electro-surf "Surfin' Hedgehog" to become a farstucker of the most alarming kind – the kind that's after Ron Jeremy – to being proud of your cross dressing lover in "Long Johns," this album takes you right into the steamy sexual underbelly of electro. The lyrics throughout the album are almost comically raunchy, as expected, and you don't have to be a podophile to enjoy "Sole Sucker". "Drowning in Ecstasy" may even make you blush – certainly not for the faint of heart, or those without access to a cold shower or air conditioning.
Unfortunately, there's one really big glitch for me on this album. "Paranormal Entity" features the vocals of Zak Bagans from Ghost Adventurers. Now, I know I'm already biased because I really really don't care for that dude's general demeanor and this song truly sounds like someone wearing an Affliction shirt wrote the lyrics. The only thing that saves this song is the pulsating Lords chorus – you know, when it's not ghost-cheez. Definitely check out the hidden track version of it to hear how good this song can be.
I have a couple favorites on this album that allow me to forget entirely about the Zak track. Possibly because it's so different from their old sound, I keep returning to "Slip N Slide," whichsounds like what the gang from Cry Baby would listen to. It's like a sweet 50s-esque electro Patty Duke slumber party – naked, and likely with some shibari, liquid latex, blurred boundaries, and a handful of forgotten phone numbers. "Hot Magma" makes me want to call up that dom I used to know. Straightforward in its goal, the undulating rhythm in the background turns semi-harsh lyrics into a sweet nothing. It's one of those end-of-the-night-but-I-need-something-to-dance-to-and-want-to-feel-sexy-doing-so kinds of songs. "Medicine Man" is a wonderful journey of a song. Beautifully atypical for Lords, yet it still has their sound. I like that the appropriately spacey "Children of Acid" is a shout-out to the official Lords of Acid fan club of the same name.
I'm really quite impressed with this album as a whole, but it did take a couple listens to adjust to the fact that this just isn't the same band I left in a dark basement club in the mid-90s, despite their sound still being pretty 90s with solid modern influences. Once acclimated, it's really a great journey. They keep that nice clean euro-synth sound that offers connection, and meld it with the deeper soul-grabbing drums & bass to round out the sound without losing its edge Deep Chills is a fine return for the band. I dare you not to walk away singing "I have a crush on Ron Jeremy" or "Daddy has a secret, he wears lingerie." Just don't combine those lyrics. Please, don't combine them.
Take a Listen: "Sole Sucker"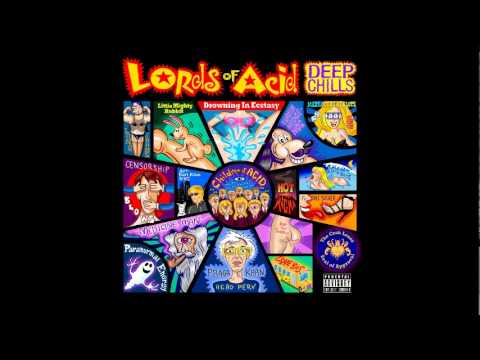 Check out Lords of Acid on their new label, Metropolis Records, and their website: http://www.lordsofacid.co/
<![if gt IE 6]>
<![endif]>
---