Last Updated on Thursday, 17 November 2011 16:17
Artist: Aesthetic Perfection
CD Title: All Beauty Destroyed
Label: Metropolis Records
Genre: EBM/Industrial
Date: 11-17-11
Mr. Graves aka Aesthetic Perfection is back once again with the album All beauty Destroyed.
This is a very mixed album and combines both aggressive and hard pumping tracks combined with a more soft almost "Futurepopish" style and we even have a ballad! Yes, you did read exactly what I wrote.
I must say that I am a bit torn when it comes to this new album, even a bit schizophrenic and this is mainly because parts of me love this album and part of me doesn't really like it. Let's say I'm having a bit of a struggle within. Anyway, let's stick to the tracks I really like shall we? The opening track is simply brilliant and aggressive with some more slow melodic parts. This is a hard hitter for sure and one of my favorite tracks along with "The Devil is in the Details" which is a bit faster and less "clean" and it's made for the dance floors for sure.
Then we have another interesting track that is called "The 11th Hour" which sounds a bit like a cross between "EBM" and "Futurepop" I can't really explain why, but it might be the different elements. The chorus sounds a bit like "Futurepop" but the vocals are screaming so it kind of fucks with your mind (at least mind).
The production is top notch as always and the new vocal style takes a bit to get used to, but the mixes of vocal styles are very welcomed. I would say that all together I like about half of the CD and the rest is probably not for me. But I am confident enough to say that there is a song for everyone out there and if you like AP I would recommend you to check this out.
Take  listen to "The 11th Hour"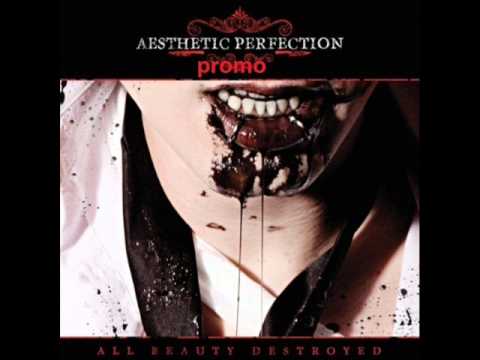 Buy Aesthetic Perfection- All Beauty Destroyed
<![if gt IE 6]>
<![endif]>
---