Last Updated on Tuesday, 18 October 2011 00:55
Artist: AIBOFORCEN
CD Title: Dédale
Label: Alfa-Matrix
Genre: EBM, Synthpop, Industrial
Website: http://www.alfa-matrix.com/aiboforcen/
Reviewer: DJ Kantrip
Date: 10/11/2011
AIBOFORCEN has been around the Dark Alternative scene (that's what we're calling it now right?) for a good while. About 1993 to be semi-precise.  I won't get into the history of this band except to say that they have had some really good albums, and what they release is memorable. Still, it has been a long seven years since AIBOFORCEN put out anything new, and I had begun to question if they were still around. Well, the long wait for a new album is finally over and AIBOFORCEN has returned to present Dédale
For their 5th studio album, the core talent making up AIBOFORCEN is Benoit Blanchart and Regenerator's Patrice Synthea. The combination of their talent gives Dédale that sweet n salty effect fusing harsh EBM elements with lighter synthpop beats. The listening experience I've had playing this album over and over for a week now has been interesting. Tracks like Poem of Life can be very sinister and cold sounding, but in a moment's notice have these burst of sunshine come through right before the song drags you back into the shadows. That's the poetic way of putting it. There's lots of emotional ups and downs in the music. However these ups and downs occur within the songs themselves. Not just 3 songs of Doom-n-Gloom, and queue up the happy/sad club track. The promotional blurbs for the album liken Dédale to a labyrinth, and that is exactly what this album is. An aural labyrinth that turns you up in places that you didn't expect. Sometimes in the middle of a song.
Musically the album is all over the place. There's some trip-hop, synthpop, EBM, and good stompy industrial. The nice part is that elements of each sub-genre are combined with others to make the songs flow together. Synthea's voice add an ethereal quality to the songs no matter what side of the mood swing they fall on. Harsh EBM or something soft and airy, her melodies give off a beacon of light in the dark little music world that AIBOFORCEN creates here. The guest vocals on Dédale flesh out the emotional labyrinth in greater detail. amGod and Leaether Strip give songs like Poem of Life and Parasethia a harder industrial sound. Jennifer Parkin of Ayria takes the lead on a surprisingly good synthpop cover of U2's New Years Day. Ego Likeness' Donna Lynch leads the listener through The World Below, which has a far more grounded feel than the rest of the songs.
If you're not familiar with AIBOFORCEN at all, then this may be a good place to start off with them. The first song I heard of theirs was Shepard's Deathline from the Diva Ex Machina compilation and while they have evolved their sound and line up, the core essence that says "yeah this is an AIBOFORCEN" song is still there. So you can start here and work back if you're a music collector like myself. Fans of Blutengel, Anguisette, Delerium, and Lights of Euphoria will definitely want to give Dédale a listen and maybe think about picking up this disc. 
Take a listen: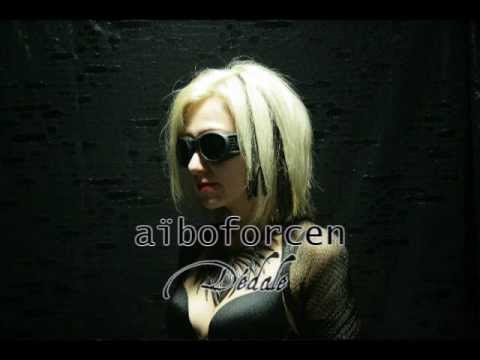 Buy Aiboforcen -Dédale 
<![if gt IE 6]>
<![endif]>
---